Lanzarote 2011
Even as those of us from the delayed Monarch flight were checking at Club La Santa, the senior Inchley's were already playing their first competitive round of crazy golf of the trip. For those that have been before, the Canarian sports resort is something of a home from home that can be settled into immediately. For most La Santa virgins, the challenge is deciding what to do first.
As a club, we have been going for the last week in November since the dawn of time to take part in the International Challenge. The challenge consists of four quite different races over four days which can be taken as seriously as you like. The general attitude is that it is a holiday first and races second. We all want to run as fast as we can on the day, but not to the detriment of the night before! There is also no compulsion to take part in the races, but if you are up to it then you are encouraged.
Once you are there, all of the sports facilities are free to use and you can enter tournaments, take lessons in most sports, join fitness classes both in the gym and outdoors, take a bike around the island or simply sit by the pool and get a tan. It is entirely your choice and all are included in the price. There are approximately 20 sports covered and facilities include a 50m pool, a full size track, 6 court badminton hall, 10 tennis courts and the resort's own lagoon for windsurfing. However, there were a decent number of our crowd that settled into their first day by acclimatising in the bar for a few hours.
This years group consisted mostly of Leighton runners but we had four MKACers, a couple of Ampthill & Flitwick Flyers, a Bearbrook Jogger and two biddies from Richard's old tennis club in Birmingham, all of whom contribute massively to the atmosphere of the trip.
With the Challenge starting on Sunday we had a couple of full days to make the most of the facilities both sportingly and socially. On those first couple of days we managed to persuade Jill that she should be doing the races, despite having spent most of this year cycling and nearly having forgotten how to run. She and Joby took their revenge on some of us by leading us far astray over those first two nights, including a 3.30am finish for Tom on Saturday morning!
Between the drinking there was tennis, paddle tennis, off road cycling trips, crazy golf and about 37 fitness classes for Julie, our friend from MK. Saturday saw us all registering for the races and entering four teams, but unfortunately Tom had gone home and Chris and Pat had cried off injured so we were down to 14 runners, but with teams of four and three scoring we scraped four teams together.
Firstly, as your correspondant, I would like to point out that I hate all the races. They are all hard for different reasons, all start too early in the morning and all cause extreme amounts of pain, but I do love it when they are over. They question for me is not which one I like best, but which one I hate least and the Sunday 10K is certainly not it, in fact it's the one I hate most! As a supporter it is perfect, you can stand on one roundabout and see all the runners six times, but as a runner it's pretty repetitive, going up and down three different spokes of a wheel twice. This year the one nasty hill on the route also had a strong wind blowing you back down as you tried to run up. Not nice!
Having been the leading runner from our group for the last few years on the trip Andy Inchley was very concerned about the form and fitness of Pete Mackrell who whooped his arse in Amsterdam and Terry Stanley from Ampthill who has very high pedigree, and over the last two years has been working his way back running wise, including losing two stone in weight. The fourth member of the Buzzard Flyers A-Team was Neil Jones from MK with whom Andy, Pete and Chris train on a Tuesday.
Another tough thing about the 10K is that it's a really fast start in front of a bit of a crowd on the track that then leads to a fairly steep downhill where we all run too fast and bugger up the pacing in the first mile. To start with, all the runners are shouting for each other as we pass on opposite sides of the road, and then as the race goes on, the pace drops and a wink is even too much to manage. Anyway, there was not too much chopping and changing amongst our contingent as we all trailed around the course with about 400 other people and were all greatly relieved when it was over.
Tradition dictates with all the three races that finish on the track, the the first one home stands half way down the finishing straight and shouts all the others in as the finishers all join the group until everyone is there to scream at the last team member as the come onto the track. What is particularly good is that now every time Pete Watkins enters the stadium there is a roar of "Come on Uncle Pete" from almost all our group. It'll be boring to list all the times here, and you can look them up if you're really that interested but we all finished without catastrophe and both Julie and Dickie Inchley won their respective age categories of F40 and V65. Really only Terry was a bit disappointed with his run, but he was probably still recovering from the 12 pints on Thursday!
Sunday afternoon saw the true competition of the week as almost all the MK Bear Buzzard Flyers made their way to the beach for the Egg Throwing and Bolas tournaments. On the egg throwing front, participants get into teams of two and nominate a thrower and a catcher! You can have as many throws as you like whilst you egg is still in one piece and the winner is the team that catches an egg whole after the longest throw. There were plenty of dubious throwing styles and a little bit of dodgy catching, but after half of the participants had covered themselves in yolk "The Silver Fox and Son" took the title with 19.5m. This was Dave and Terry Stanley, who had clearly spent their summer training hard for this illustrious competition.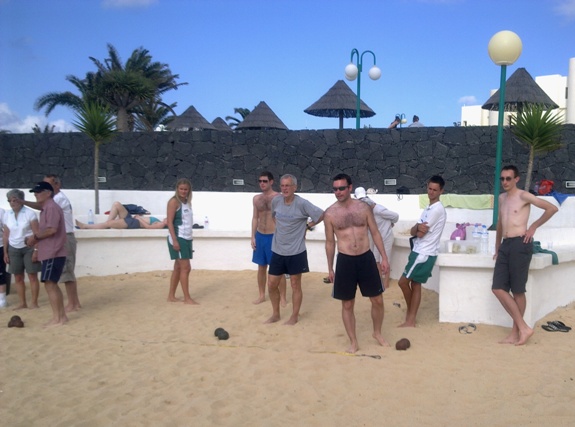 Part two of the beach afternoon saw the deadly serious Bolas event. For the French amongst you, this is Boule or Petanque. Once again this was a doubles event and so many of the teams remained the same, whilst a couple split following artistic differences after the egg throwing. The reigning champions from 2010 (Andy & Amy) were dumped into the plate (losers) competition after a 5-0 first round defeat and this left the draw wide open for a new victor.
With stiff competition throughout every round, battles became tense and allegations of cheating were thrown everywhere. Eventually though, all of the LBAC teams were eliminated and Julie and Neil from MK took on the Stanleys from Ampthill. With confidence from the egg throwing still surging through their veins, the The Silver Fox and Son took their second title of the afternoon. There is still an investigation going on as to whether Dave had taken too many ice-cream supplements and whether Terry had a legal throwing action, but as it stands they retain the trophy.
Monday morning saw us all gathering at track for race number two, The Ridge Run. This is about 4 miles up the side of a volcanic ridge, a loop around the back then 3 miles back to La Santa. If you remember to look, it's a great view from the top of the ridge, but often you are so focused on your footing and trying to breathe that admiring views are not on the list of priorities. As is the custom with these type of events, personal battles were going on throughout the field. Andy and the leading lady, Pete and Terry, Julie and Ian and Jill and Richard to name a few.
These were where the changes in group order occurred. Fresh from his beach victories, Terry got the better of Mackers on the downhill and Julie's strength told as she gained some time back on Ian, whilst Jill managed to get in front of Richard from early on and held it. With the exception of our two round Britain cyclists, everyone was running quicker than the previous year and for the second race in a row, both Julie and Richard won prizes as agegroup winners.
Tuesday saw everyone on a coach at 8.30am to head over to Puerto Del Carmen for the beach race that is almost unanimously considered the toughest of the four. It is only 5K, but it is on a sandy beach that saps the energy as soon as you get started. The course this year was not quite as bad as it has been in the past as we were able to run a little more on the harder sand near the sea, but there was still planty of soft stuff to drain the muscles.
Our team of V60's were having a battle with one other team in the overall competition and this was when Dave Adams came into his own. He stormed around the course and managed to get the scalp of Watters on this occasion whilst Richard was putting in the big ones to have a race with Jill. The outstanding race of the day though was run by Terry who tore through the field to leave Andy floundering and finish in 19th place, 35 seconds ahead of Andy – who himself managed to beat the leading lady for the first time – and 90 ahead of Pete. Julie once more won the V40 agegroup prize, but on this occasion Richard was pipped into second in the V65's.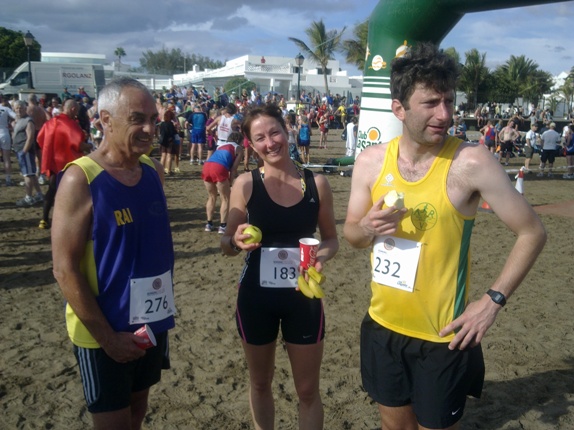 Tuesday night is always a bit different. We're obviously on holiday, but we've got sore legs (and very sore feet in Amy's case) from three races and have a half marathon to do in the morning so most restrict themselves to two or three beers rather than the usual holiday excesses. It does mean though, that everyone makes it on the 8.30 bus up to Macha Blanca where the race starts, before lapping a volcano and heading down through Tinajo town to La Santa via the same ridge and bumpy track that we ran up on Monday.
As the distance specialist Mackers was expected to challenge Andy, whilst Julie and Richard were both looking to win their agegroups. Generally though, everyone was hoping to beat times from previous years and look forward to a big night in the square and the disco.
The first 100m saw the first challenge as Dadams stopped next to Uncle Pete who was having trouble with his breathing. A brief respite to check everything was actually okay and they headed off at a steady pace together. Meanwhile, nearer the front end Pete and Andy had headed off together too, with both expecting a close race. The first couple of miles are the settling period where everyone finds their spot in the field that is likely to see them through most of the race and this was certainly the case here.
Around the four mile marker, at the end of the volcano loop, there is a really nasty hill that slows everyone down by about a minute for the mile concerned and many places are gained and lost. However, after that it is downhill all the way until one final hill around 12.5 miles. As the race progressed a few little group battles were developing as Pete dropped back and was caught by Terry, Julie and Ian were running very close and Jill was clearly using her cycling strength to target Amy.
Up at the start there had been a bit of breeze, but as the race progressed the wind dropped and the temperature rose. This felt at it's peak while coming down the dusty ridge between gravelly fields where there was no shade at all. With around 4K to go there was a sharp left turn and most people used this opportunity to check out the chasing competition with various results. Most notably, Amy was surprised to see Jill on the hunt for her and put in a burst to relieve the pressure and get after a group ahead in the hunt for a fast time.
Up ahead, Andy had used the same corner to check with relief that neither Pete nor Terry were about to fly past and focused on the two people in front after six miles of solo running which meant a fast couple of miles in his push for a PB. He did manage to cross the line in 21st place and just ahead of the leading lady, but had been pipped by 10 seconds overall. Terry entered the track a couple of minutes later to big "Come on Tezza" over the microphone. Somehow Mrs Inchley senior had managed to get hold of it, and a microphone is rarely needed where she is concerned.
As the group started entering the stadium one after the other they all got a big shout on the PA and even Pat and Helen (the Birmingham biddies) were seen shouting everyone in on the back straight. Julie just beat Ian by a few seconds to win her fourth consecutive agegroup prize, but dramatic finish of the day went to Amy who's wobbling head both Andy and Paula Radcliffe could not compete with. In her final couple of miles she had somewhat overheated and that combination with the extremely sore feet made for an unglamorous end to the racing. However, this and all her other races combined to make her 27 minutes quicker overall than she had been two years previously.
Running eleven minutes quicker than last year, Richard once again was first V65 and Dave and Pete crossed the line hand in hand to many applause, having run the full distance together. As Lena Gazzani, our final group finisher crossed the line, thoughts turned to the recovery first and then the much celebrated post challenge awards party.
| | | | | | | |
| --- | --- | --- | --- | --- | --- | --- |
| Name | 10K | Ridge | Beach | Half | Total | Age. Pos. |
| Andy Inchley – LBAC | 36.56 | 48.09 | 19.52 | 78.12 | 3.03.07 | 6th / M35 |
| Terry Stanley – AFF | 38.52 | 49.56 | 19.16 | 80.04 | 3.08.06 | 1st / M20 |
| Pete Mackrell – LBAC | 38.01 | 50.14 | 20.45 | 80.24 | 3.09.22 | 5th / M25 |
| Neil Jones – MKAC | 40.31 | 53.17 | 22.20 | 84.17 | 3.20.23 | 9th / M35 |
| Joby Hobbs – exLBAC | 41.50 | 56.25 | 22.44 | 92.43 | 3.33.40 | 6th / M25 |
| Ian Hosley – LBAC | 42.03 | 58.01 | 22.52 | 93.28 | 3.36.23 | 13th / M35 |
| Julie Dalzell – MKAC | 42.57 | 57.22 | 24.27 | 93.26 | 3.38.11 | 1st / F40 |
| Dave Stanley – AFF | 45.08 | 59.51 | 25.00 | 97.04 | 3.47.02 | 4th / M55 |
| Amy Inchley – LBAC | 47.21 | 63.21 | 26.58 | 103.07 | 4.00.45 | 8th / F30 |
| Jill Westwood – exLBAC | 50.21 | 65.28 | 27.30 | 104.34 | 4.07.52 | 5th / F40 |
| Richard Inchley – LBAC | 49.54 | 67.28 | 27.29 | 108.12 | 4.13.02 | 1st / M65 |
| Pete Watkins – LBAC | 52.33 | 69.11 | 28.53 | 116.15 | 4.26.51 | 8th / M60 |
| Dave Adams – LBAC | 54.20 | 71.28 | 28.39 | 116.15 | 4.30.40 | 9th / M60 |
| Lena Gazzani – Bearbrook | 54.19 | 75.02 | 32.20 | 118.53 | 4.40.32 | 5th / F60 |
An early dinner on Wednesday night meant that beer, wine and gin & tonics were all in hand by 9pm for the traditional awards ceremony. Irishman Paul Duffy lead the way overall but there was also glory for our group. Julie Dalzell won the V40 event by a long way and lined up on stage with all of the other agegroup winners. Although there are no daily prizes in five year agegroups, they do give overall ones and Terry was 1st 20-25. This meant that he had to work his way down the line kissing all the ladies in turn before planting a big kiss on the forehead of the U20 male winner, and got a big cheer for his efforts.
Eventually we came to V65's. For many years Richard has run very well at all levels, representing the club in hundreds of races around the UK and the world but generally this has been part of a team and overshadowed by others. He has been coming to Lanzarote for 22 years and has done 84 consecutive challenge races and never won anything, but now was his moment of glory as he took his first place rock from Vince Regan. Well done Dickie.
The formalities over with, the trophies were passed around and many pictures taken and congratulations offered as celebrations began. There then followed the usual drunken revelry until the slightly more youthful ended up in the disco in the early hours, only to joined by the old boys of Uncle Pete and Dickie who both threw a few shapes around, with Pete lasting a touch longer than Richard. The rest of the night is fairly hazy but the best stories the following morning came from Chris (regarding Pete M) and Lyndsay (regarding Ian the bike rack!).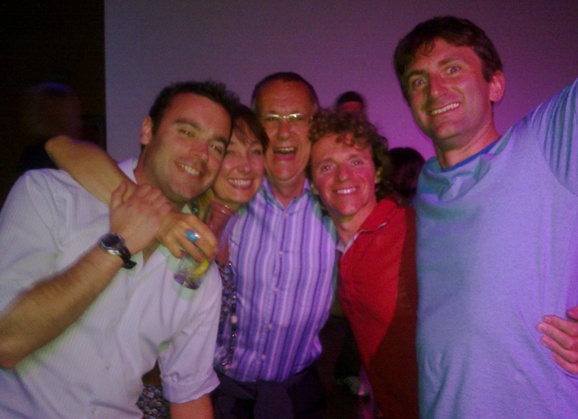 Thursday ended up being a recovery day for most (after we said goodbye to the departing Neil, Julie, Pat and Helen) with Pete M particularly feeling the need for recovery, before everyone was refreshed on Friday and ready for exercise again, particularly as half the group were heading to a regular haunt in Teguise for the afternoon. A small contingent managed a jog around the lagoon and a game of paddle tennis before taxi's at 11am.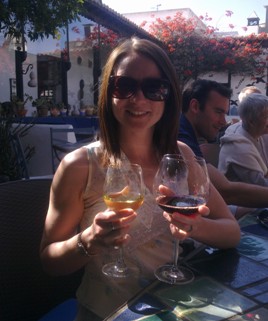 It has become something of a tradition of Les and Dickie to head up to the bodega and drink excellent wine and good food for one afternoon of the trip and this year was no exception. There is no getting away from the fact that this is an expensive afternoon, but on a warm day there is no better place to sit in good company and get slightly sozzled while eating tapas and chocolatey puddings, and this is what ten of us did.
The remaining two days were passed with everyone taking the opportunity to fit in as many different sports as possible and catch up on a bit of sleep and sunbathing, before heading back to these shores on Sunday and some very cold weather.
The chances are that we'll be going again next year so if you are interested in coming keep an eye on these pages and let Richard know if you fancy it when he asks around February / March time.