Sneaky Fred
Looking down the list of previous winners of the Christmas handicap, it is a veritable who's who of past LBAC stalwarts, but one thing that is very noticeable is the lack of youth who have won it. Time and again it is the more "senior" members of the club who have taken the Langmay Trophy home. When Chris Dimmock won it last year I would suggest he reduced the average age significantly, despite being a V40 himself.
This year, there were some gallant efforts to get the better of Dave put in by some of the slightly more youthful members but it was to no avail. I don't think Fred will mind me saying that he has had a lousy winter. He's been injured and ill at various times and his regular performances in both the cross-countries and Stags have not been to his usual standard and it is these runs that Dave is aware of.
What Dave hasn't spotted (or Fred has kept very quiet) is that in recent weeks Fred has been training like a demon in preparation for the MK marathon next week and had a strong run in the Oakley 20. The result of all this was that Fred was predicted a time for the 5.6 mile course of just over 45 minutes and he cruised round in just under 42, to smash his handicap by 3:10 minutes.
What was great to see, was that there were 20 participants on what turned out to be a warm spring day. A few years ago, the event was on the verge of giving up the ghost on Boxing Day, but the change to Easter has seen it gain a new lease of life.
For those that are unfamiliar with the competition. The race and the route date back to the 70's, long before the bypass that we now cross was even thought of. It is a simple concept where the handicapper (Dave Adams) predicts a time for each runner based on past performances and current form and whoever beats their handicap by the most takes the title.
Of the 20 runners who set out on the course that takes in Stanbridge Road and Billington, 10 managed to beat their predictions by various amounts. The other leading contenders on the day were Tim Inchley, who surprised just about everyone by coming home second in run to beat his handicap by 1:31, Jane Sauer who defied her constant battle with injury for 1:23 under her time and John Boulder who was the fourth and final person to be over a minute ahead of his time.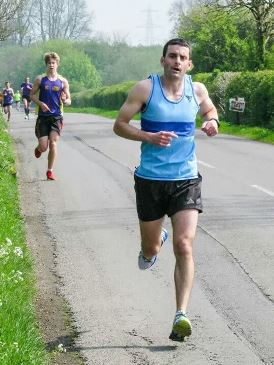 Full results are shown below;
| | | | |
| --- | --- | --- | --- |
| Pos. | Name | Time | Difference |
| 1 | Fred Watt | 41.55 | -3.10 |
| 2 | Tim Inchley | 33.59 | -1.31 |
| 3 | Jane Sauer | 40.42 | -1.23 |
| 4 | John Boulder | 44.50 | -1.15 |
| 5 | Amy Inchley | 38.22 | -0.58 |
| 6 | Gary Stratford | 34.19 | -0.56 |
| 7 | Chris Dimmock | 38.46 | -0.54 |
| 8 | James Bell | 35.15 | -0.40 |
| 9 | Adam Haylock | 34.27 | -0.18 |
| 10 | Andy Inchley | 33.54 | -0.06 |
| 11 | Sam Dear | 38.01 | 0.06 |
| 12 | Billy Mead | 34.45 | 0.15 |
| 13 | Jordan Clay | 34.14 | 0.24 |
| 14 | Nick Clay | 36.50 | 0.25 |
| 15 | Dan Webb | 38.16 | 0.26 |
| 16 | Tom Inchley | 35.48 | 1.18 |
| 17 | Mark Haynes | 44.32 | 1.52 |
| 18 | Charlie Mead | 37.08 | 2.38 |
| 19 | Katie Haylock | 44.14 | 3.14 |
| 20 | Chris Williams | 46.46 | 7.06 |