Millbrook MAD 5K
Tuesday 24th June saw the return of the annual Millbrook MAD 5k challenge, a 5k race around the roads and tracks of the Millbrook proving ground. Every year various engineering companies bring along their latest vehicles and gadgets to Millbrook to showcase to customers and try to out-do each other! And as part of the fun and festivities, the nice folks at Millbrook set up the most gruelling course they can think of then invite us idiots from the various engineering firms to come and have a race around it all in the name of fun and charity!
So now all we needed was an idiot to send to this race……luckily we had one on hand!
So I arrived at the course not really sure what to expect, other than what I'd heard from colleagues who'd taken part in previous years who'd said it was a hard, hilly course. As the event isn't a serious race, just a bit of inter-company fun and most of the competitors are wheezy, pasty, pale engineers and scientists who might spontaneously combust if exposed to sunlight, I naturally thought that a seasoned runner and veteran cross country campaigner like myself shouldn't have too many issues……
Stood on the start line staring up the hill, I began to have a sinking feeling that my hubris might be about to take a smiting from whatever ancient Greek deity happened to be laughing at us foolish mortals! And then we were off, charging up the first hill!
Whilst some of the runners shot off at a sprint, I decided to bide my time staying towards the front of the pack but not trying to keep up with the guys who vanished over the first hill. My patience was rewarded as fully half the sprinters blew up after about 200 yards, and a small pack began to work its way forward. A flat-ish quarter mile followed with a few guys pushing the pace down to 5 minute miling, and me just trailing a little behind. At this point we hit the first hill, a three quarters of a mile drag up the tarmac roads. The depressing thing about all the roads on this course is that they have signs that tell you the gradient…..and at no point did I see any signs that involved single digits! The pace setters immediately slowed, and thanks to the practice on all those cross country hills I held my pace and was soon past the leaders and pushing on. A couple more gruelling climbs on the roads, including a 33% gradient which was ridiculous, and we were at the 2 mile mark where we entered the 4×4 test trails…..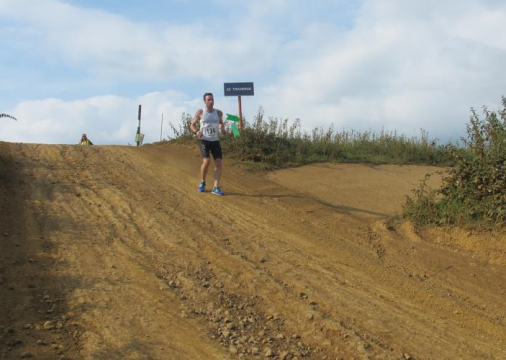 Having gone through the first two miles in 5:39 and 6:13, I was thinking another 7 minutes or so and it'd all be over…..wrong! The 4×4 trails are twisting, turning, steep, sandy and rocky with the hills coming thick and fast there was no respite. Slipping on sand and 30% gradients reduced me to a strange mountain goat-like shuffle up a couple of hills at 20+ minute miling pace! Lungs, quads and calves burning and heart bursting, I kept pushing as hard as I could convinced that every time I slowed I'd be giving up ground to the chasing pack. I eventually found myself leaving the 4×4 section hills and charging down the last slope towards the finish….at which point the final surprise, or perhaps punishment, was sprung!
As we all know, if you want to test an off road vehicle properly, you don't just need hills, you need bloody great water troughs to drive through. So with about two hundred yards to go I came round the corner to be confronted with a 60 foot pond that they normally drive range rovers and tanks through……unfortunately I am neither a range rover or a tank, so hit the water like a sack of bricks and slogged slowly through thigh deep water with my legs burning. Some eternity later, I finally emerged from the water, dragging myself up the bank and stumbled my way onto the finish straight and plunged down the last slope to cross the finish line, well pleased with a hard earned first place in a time of 21:59.
This is by far one of the toughest courses I have ever run, despite being only 5k, but the event was superb fun, well organised and in aid of a great charity, Help for Heroes. If you ever get the chance, I would heartily recommend it!