Shearing some time off a Guinness World Record
By Glen Turner
Aylesbury parkrun, 22 March 2014
Me: "Richard, how was your run today?"
Richard: "Yeah it was good thanks, good to be back running here after the floods. I've got lots of events coming up, I'm volunteering at the Commonwealth Games and I'm going to try to break another world record and raise some more money for Breakthrough Breast Cancer."
Me: Break another world record?
Richard: "Yeah, a couple of years ago in the Great North Run I broke the world record for the fastest half marathon in an animal costume. But a couple of people broke it after that, I think the record now is about 1 hour 30 minutes. You could probably break the current record, I've still got my sheep outfit if you want to have a go. Just find a half marathon, log onto the Guinness World Records website and register your attempt.
Me: "Alright. I will. Bring the costume next Saturday."
Fast forward to 6 July 2014 and the boy who used to drive sheep on the family farm back in Australia during the school holidays, was being driven dressed as a sheep to the NSPCC Half Marathon. I had officially registered my attempt with Guinness, in the hope that Milton Keynes would become my field of dreams.
I hadn't made a final decision on whether to attempt the record until that morning, as I knew that a wet day or a hot day would scupper any chance I had. Adding to the challenge was the fact that in the time between me registering my attempt and doing the race, the record had been lowered to 1:24:15 by a lion from Lancashire. This wool-d really force me to show a clean pair of hooves, but world records aren't supposed to be easy, right?! I didn't want to just be some Ringer coming in to steal the spotlight – I wanted it to be a real challenge to shear some seconds off the record.
Fortunately, the high 20s temperatures from the previous week decided to break on the morning of the race, so it was relatively cool and dry – about 18 degrees – ideal world record conditions you might say.
I had experimented in training with wearing a camelback under my outfit to ensure I kept hydrated and didn't need to battle in the drink stations, but that had given me the hump so I decided to plump for a handheld bottle with sports drink instead.
The weather forecast was looking fine and my wether was looking pretty fine too, not that it makes a speck of difference whatsoever to a wether whether it's looking Dolly-ed up or not. But we digress…
Two weeks before the race I had road tested the costume, aka Baaaarbaba Ewenis Dolly, in the Buckingham parkrun. I was pleased to clock 17:55 over the 5km course, but it also made me realise that I needed to make some adjustments to the head of my outfit. So I spent the night before the race using safety pins to clip my running visor inside the sheep's head, with the sole purpose of trying to keep it stable when cornering. The head is very heavy and cumbersome, and with the twisty nature of the course and the fact I had no peripheral vision, meant that I needed a stable head. The last thing I wanted was to have the wool pulled over my eyes.
After some final adjustments, and a few quick strides up the road in front of our house, I was confident I was ready to go.
Nikki and I arrived at the start early, giving me enough time to do a long warm up and then get fitted properly into the sheep costume. In order to have a record officially verified, a competitor must fulfill a long list of criteria, including being able to prove that they are "inside the costume for the duration of the event." Nikki made sure that my head was nice and stable, and my collar was done up tight.
It was nice to see some familiar faces at the start line, with Kate Johnson, Andrew Hallworth and Adam Haylock all sporting the LBAC purple and yellow, in stark contrast to my off-white. Andrew was making his half marathon debut and looked more nervous than me. Kate was doing her 39th race of the week, and Adam was hoping to use his great recent form to pump out a new PB, which he duly did. It also put more pressure on me though – the thought of being lamb-asted for missing out on the record was always in the back of my mind.
Just before 10am I made my way to the start line. I cut a striking figure dressed as a bare bellied yoe, and was herded into the starting pen for runners aiming to complete the course in under 1 hour 30 minutes. The temperature wasn't too baaalmy but I found a nice spot in the shade to stand – I wasn't taking any chances.
After some banter with the runners around me and a shout out from the starter, the sound of an air horn sent the field bounding down the opening downhill stretch.
There was no time to be sheepish now, the quest for the Golden Fleece was on!
The course itself is nothing spectacular, but then again Milton Keynes will certainly never win any EWENESCO awards for beauty. The race starts and finishes at the Webber Independent School, and is run almost entirely around the "redways" (cycle paths) of the city.
After a few hundred metres on road we turned right onto a redway, where we would spend most of the race. The course map showed the first few turns as being right handers, so with my lack of peripheral vision I stayed hard to the right for the first 3 kilometres, showing a clean pair of hooves and avoiding making a newesense of myself. I must admit I'd had some nightmares the previous week about being chased off the course by a pack of stray dogs, or even worse, a pack of stray Welshman.
As is normal with a big event like this, the pace was pretty ferocious at the start, but rather than ram my way to the front I was content to just sit on world record pace. The equation for me, as a runner from a modern progressive country, was simple – run every kilometre in exactly 4 minutes to break the world record by one second. For those dark-age imperialists out there, I think this equates to about 6:20 minutes per mile.
The first km on the downhill was a little quick at 3:42, but I soon settled into a rhythm as the kilometers ticked by, click click click. A run of 3:59, 3:58, 3:57, 3:57, 4:00, 4:06 and 3:58 sent me through 8k (5 miles) in 31:30, just inside world record pace. I wasn't feeling particularly hot which was surprising, but the sheep's head was already beginning to feel heavy and a dull headache was spreading across the right of my head. I was carrying a handheld water bottle with sports drink in an effort to avoid doing battle at the water stations, so I kept sipping from that and concentrating on maintaining pace. I soon passed Andy and Amy for the first time, and shortly after saw Nikki and some friends of mine from Tring, all of whom had kindly volunteered to take photos and videos of me on the course to help me prove that I had broken the record, providing I actually ran fast enough!
After heading out for most of the first half of the race, we turned back on ourselves for the second half and I immediately felt a stiff breeze into my face. Had we been running downwind? Am I going to have to run the second half back into the wind? Fortunately, after a long exposed stretch we once again dipped down onto a redway by the canal and I didn't notice the wind again for the remainder of the race.
The shepherds in their high vis eweniforms and the supporters lining the course were energetic and supportive, and every time I got a cheer I could feel my pace quicken for a few seconds. And valuable seconds they would turn out to be.
I went through half way in just under 42 minutes, which was perfect pacing but I knew I had no time to spare in the second half. With the exception of my head weighing me down, I felt strong and followed my plan of stepping on the gas for the final 10km. I passed Amy an Andy for a second time as I joined the canal path, but after a succession of 3:50 kilometres disaster struck, with my handheld bottle perishing in my hand and leaking all over my race bib, which immediately began to disintegrate. The official race photos would later prove that very few runners did make it round with their cheap paper bibs in tact, but at the time this was panic stations for me because the Guinness rules clearly state that a runner must be identifiable (appreciate the irony?) throughout the race. With only a few seconds in the bag I resisted the urge to stop and try to secure it, electing to run with one hand across my bib and the other doing everything possible to pump my legs.
After some nice straight sections along the canal, I passed through 16km (10 miles) in 1:03 and was pleased to see that I'd put about a minute in the bank since half way, and was continuing to pick up pace. By this stage I was overtaking lots of other runners, and after each one I picked out another one to catch. The reactions of people when you overtake them in the latter stages of a half marathon dressed in a full body sheep costume are varied and often amusing. Some congratulated me, others swore, some tried to put in an interval to stick with me and others just groaned.
My kilometre splits were down to 3:45 (6 minute miles) and with just a couple of kilometers to go I was in acres of space. From here it was just a matter of running as hard as possible to the end. A quick mental calculation suggested I'd finish in 1:22, the thought of which spurred me up the final hill, onto a grass field and into the closing straight. My bib was obviously in good enough condition that the announcer could see it, because as I entered the final straight he called out my name. I crossed the line to the bemused look and the odd cheer from the gathering masses.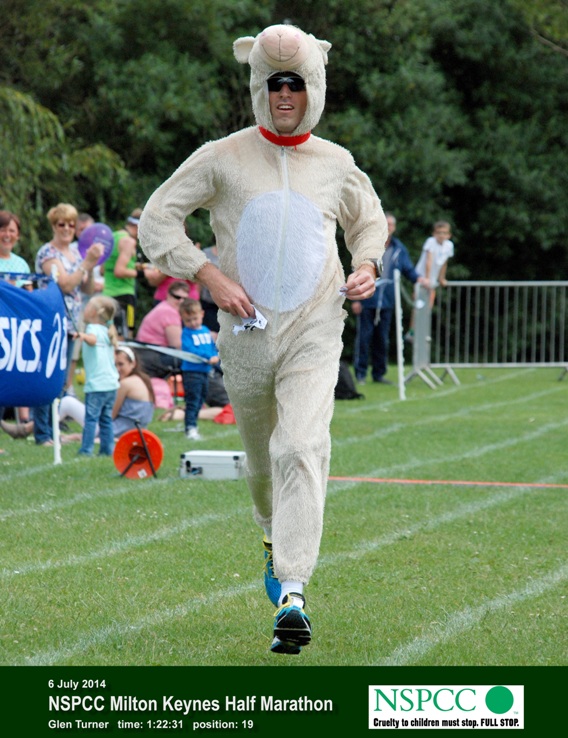 No sooner had I crossed the line than I had the race announcer's microphone thrust in my face for an interview, which I politely deferred until I caught my breath. In all the excitement I had forgot to stop my watch, but a quick time check with the race officials confirmed I had crossed the line in 19th place and stopped the clock at 1:22:31 – a new world record for a half marathon in an animal costume.
I was a world chaaaaampion!
After a quick interview with the announcer where I bleated about my record, I had my medal engraved and chatted to other runners. It was nice to see how many of them came over to congratulate me and tell me how stupid I was for running in a full sheep outfit in the middle of summer.
Thanks to all of ewe who came out onto the course, and those who dipped in and out.
It felt great to ewetilise a good 6 months of consistent training and fleece that lion from Lancashire. He had set the baaaaar high, but I had smaaaaashed it.
After a quick shower we headed straight to the baaaaar in Leighton Buzzard for some well-earned Guinness.
Whatever the result I would have had a baaarmy time, but I must be honest and say it would have been a real blow not to get the record.
But for those of you thinking about following in my hoof prints, just remember – when it comes to attempting world records in animal costumes – it's a jungle out there…