Breaking the Ice at Keysoe
The return to league cross-country running in a freezing new year, felt for many like a slightly awkward introduction at a new place of work – you know you have to do it, but actually you're not that keen once you arrive and you'd rather be at home. This particular fixture also saw a few league debuts and one long lost returnee.
In reality, those that were first on site did genuinely get to break to the ice in the water "splash". It's a good job that most of the seniors didn't get to see this situation as many of the field may have turned on their heel and gone home!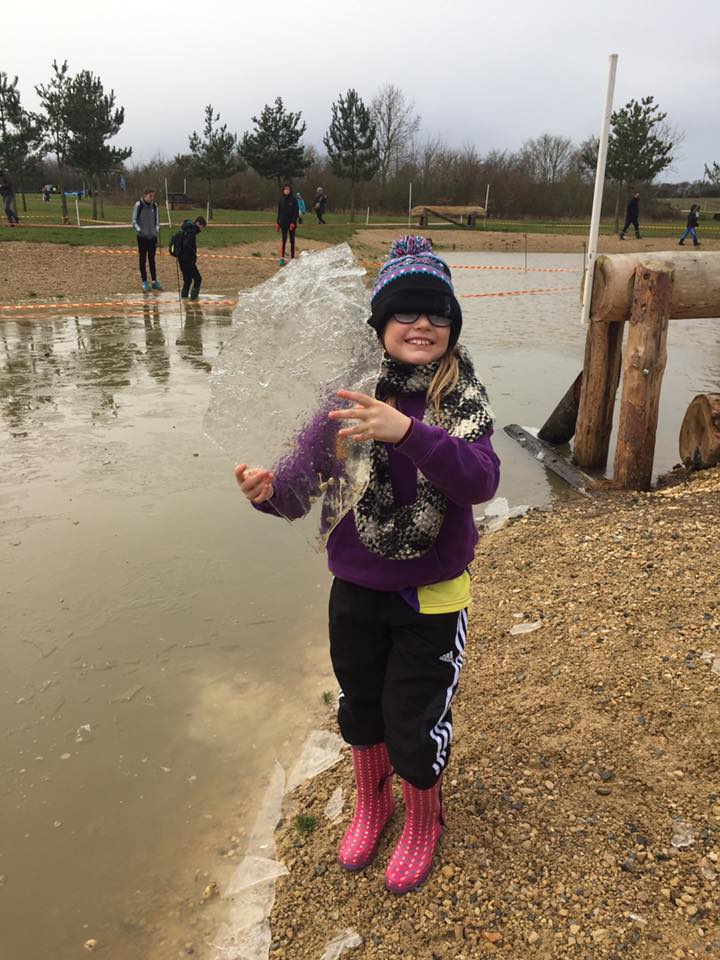 The stars of the day were undoubtedly our women's team. Most of the regular ladies who have been taking part in fantastic numbers this year all called off for various reasons over the preceding couple of days. Even Amy I and Kas who went along were unable to run due to injury. However, down to seven women, with six to score, all seven of them finished in their best position of the season so far and three of them achieved their highest placing ever!
Laura Brine led the team home in 20th place for her second XC in three days, and just a minute behind her was Liz Peters in 31st, when her previous best was 48th two years ago. Just a minute behind Liz was Coralie Anderson, who had been ill all week but the purchase of some new spikes saw her finish in 37th, beating her previous best of 63rd from the same venue last season. Maria Williams was ten places higher than the first two races of the year and Fiona was similarly 20 places higher.
Kate Johnson looked like a different person as she charged through the water each lap to close the scoring team in 90, while Alex Killick ran fantastically on a tough course to make her league debut in 103rd.
All this resulted in the team finishing 9th on the day and remain 9th overall. However, with six out of the seven being "veteran" ladies they managed a fantastic 2nd place on the day and are now up to 4th in the table. They need to overhaul a 47 point gap to Tring in order to get into the medal places at Campbell Park……..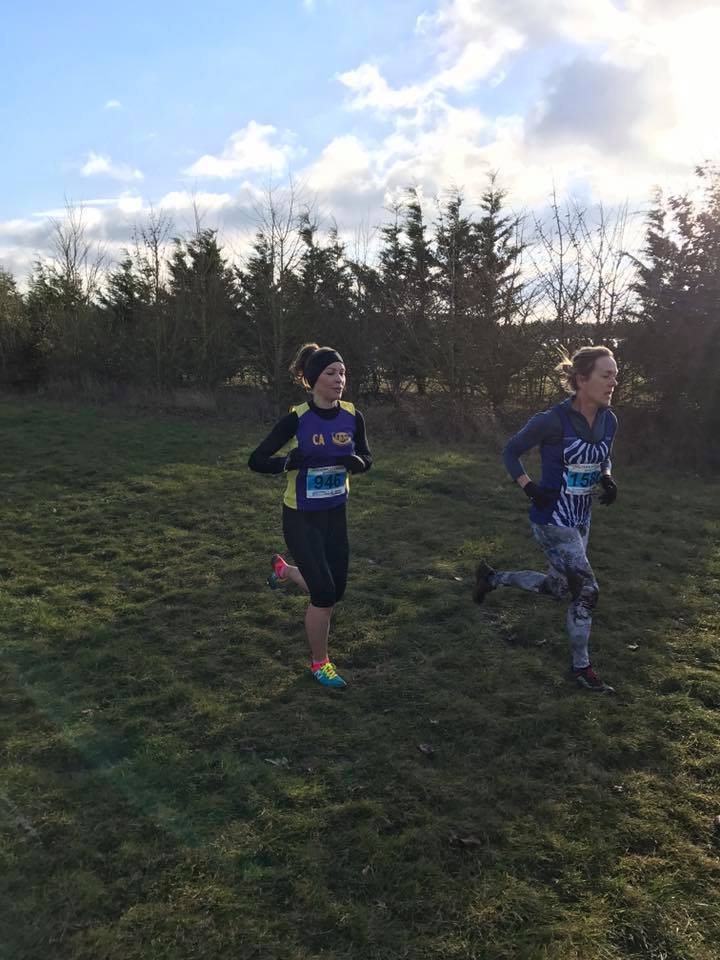 As ever, it was our under 11's that kicked off the day and it was a little surprising that a few of them were none too happy about not being allowed to run through the water despite the ice having just been removed! Six lads and three girls lined up on their respective start lines and ever it was a sprint for the finish with children streaming over the line at about one every two seconds. Sid Mead led the boys home with Toby Evans 18 seconds and 8 places behind him to finish 30th, while Sophia Watt did similar for the girls.
Finlay Boyd, Logan Dewar and Evan Hirst-Mitchell were all just a few seconds apart in doing battle for LBAC with Ash carter rounding off a strong team performance where they finished 8th out of 15 teams. Katie Killick and Izzy Gardner equally ran well to bring the girls team home.
The junior team performance of the day came from the U13 girls who packed together very well to finish 5th on the day. Zara Brooks, who can be seen regularly at the Rushmere parkrun tearing between the trees was first back in 22nd place, but Daisy Giltrow, Katy Dixon and Julia Bell were all within a minute of her and gave great strength to the team and Imogen Chesterton will soon be challenging them as she increases the squad depth in the age-group.
The U13 boys were a little light on the day with just Daniel May and Thomas Hirst-Mitchell out in the purple and yellow. However, they did us proud with Daniel in 33rd and Thomas in 45th being the first through the icy water. The U15's though were well represented by five lads with Max Rose and Josh Nectoux-Holkham giving a fantastic effort on a tough day. Scott Towell and Owen Lindars had their own personal battle which spurred them both on and saw Scott just pip Owen on this occasion as they came home 40th and 41st. First home was Daniel Horner, who is also a very regular parkrunner and his 27th place will have earned some great points for the club overall.
The U15 girls were boosted by the return of Amy Killick who came home in 27th place and gave some great encouragement to Dana Carter and Mckenna Keefe who have both done 3 of the four races this year. It was fantastic to see two young women taking on the U17/U20 race, with Caitlin Bell and Megan Westrope braving a couple of trips past the sharks in completing the 5K course. None of the efforts of the juniors should be underestimated as over the season so far they have scored nearly 1000 points for the club that could prove vital come 11th February.
Finally the senior men came to the party late in the day. It's fair to say that while they've been running okay, they haven't quite hit the straps of last year, however Keysoe was the day some form came back. Despite the loss of one key runner to a cycling injury the team was boosted by the return of Rob Elmore. Rob has rejoined the club after 10 years away and we are delighted to have him back. We also had league debuts for Michael Furness and a long awaited return for Dan Webb.
Our strength in the men's team comes from having so many runners occupying the middle of the pack. Where most clubs have a spread across the field we have one or two up front (although it is increasing!) then flood everyone in, in a hurry to complete the scoring team and start taking points from other clubs. On this occasion though there were a large number of outstanding runs.
Elliot Hind continues to improve and finished in his highest position to date with 6th place in the race, equating to 209 points. Rob Elmore is still finding his old XC feet but came home in 26th, which is a big boost for us and not too far ahead of Billy Mead who had his highest finish ever in 37th and smelt significantly better than last week!! Similarly Chris George's (53rd), Tom Kimber (74th) and Stuart Read (84th) were likewise their best yet. Remarkably Adam Haylock had finished 84th in each of the first three fixtures, but managed to smash that with a 61st place (because there were no hills!!) this time while Nick Clay and Gareth Bird both had their best finishing positions for some time.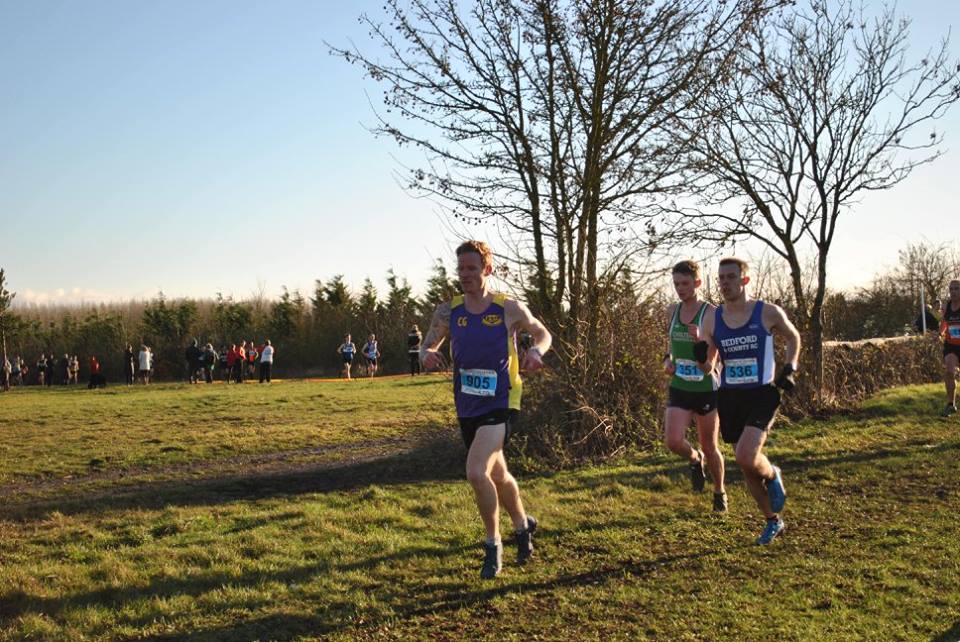 The result of the efforts of these 22 fine men was that they finished 4th on the day and are now 4th overall – just one solitary point ahead of Chiltern Harriers! The vet men also achieved a pretty respectable 5th place too.
So, with just Campbell Park in Milton Keynes on the 11 February to go, as a club we are in 6th place battling with Dacorum (60 points ahead) and Oxford (60 behind) to get into 5th place, which would equal our best ever position, which we achieved last year. As the smallest of the 14 clubs in division 1, we continue to punch way above our weight and should be rightly proud of our efforts so please try to keep the final fixture fixed in your diary and finish the season with a flourish.