The 2019 LBAC Club Mile
LBAC Club Mile
Another weekend and another club championship race. They seem to be non-stop at this time of year!
This time, it was the mile track race. Open to both Juniors and Seniors to race around in several heats to suit their predicted pace.
First up in Heat 1, it was a real mix of youth and youthful exuberance with a big age range from youngest to oldest. Don't let that fool you though as there were some pacey people in that heat.
Charlotte Evans just about held off James Parker to finish fastest in the heat with Jeni Read finishing 3rd.
Onto Heat 2 and we had a very tight race with all 11 runners within a minute of each other. First in was J Harrison with a storming race followed by Chris Stenner and Harriet Butlin.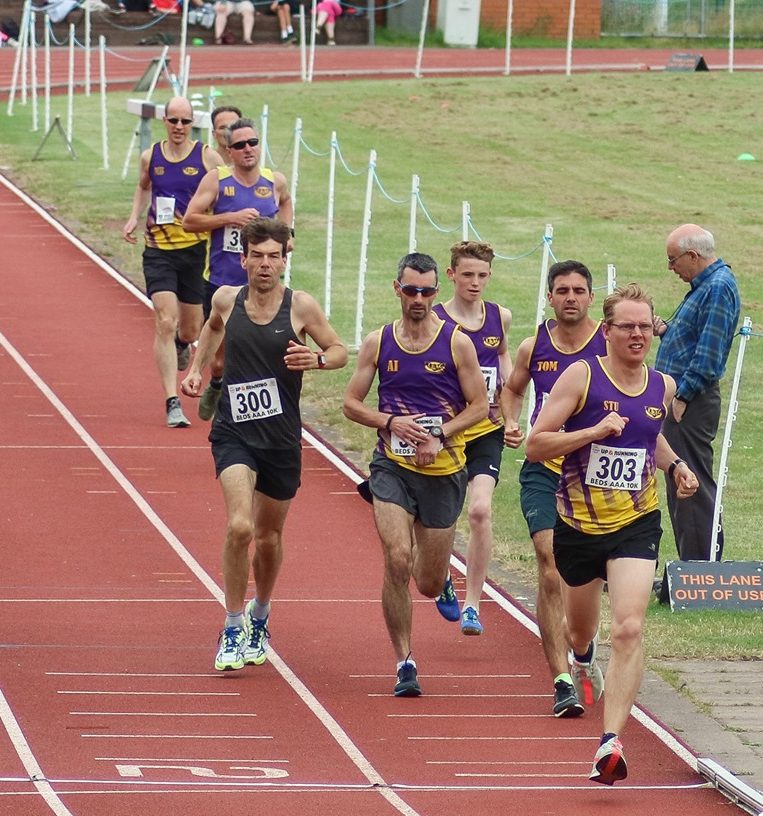 Heat 3 got faster again and Max Rose was first to break 6 minutes followed by Harry Bell and James Lowe storming down the home straight. This heat also had the fastest lady in with Zara Brooks coming home just ahead of Ruth Mitchell to become club champ.
The final race included the stalwarts form the seniors, but Oscar Butlin despite being the only juniors, was not to be discounted. Stuart Read continued his recent excellent form finishing first and fastest on the day with Andy Inchley just behind and followed by James Bell although nobody managed to dip under 5 minutes this year.
A perfect test run to see where we all are in terms of fitness and definitely a good target to try to beat next year. For all results in time order, see below:
| | | | |
| --- | --- | --- | --- |
| Overall Position | Name | Time | Heat |
| 1 | Stuart Read | 5:08:2 | 4 |
| 2 | Andy Inchley | 5:11:9 | 4 |
| 3 | James Bell | 5:12:8 | 4 |
| 4 | Tom Inchley | 5:18:7 | 4 |
| 5 | Oscar Butlin | 5:31:2 | 4 |
| 6 | Adam Haylock | 5:39:8 | 4 |
| 7 | Matthew Brooks | 5:48:9 | 4 |
| 8 | Max Rose | 5:54:7 | 3 |
| 9 | Warren Rose | 5:55:7 | 4 |
| 10 | Harry Bell | 6:02:3 | 3 |
| 11 | James Lowe | 6.03.9 | 3 |
| 12 | J Harrison | 6:05:4 | 2 |
| 1 | Zara Brooks | 6:09:5 | 3 |
| 2 | Ruth Mitchell | 6:10:6 | 3 |
| 3 | Alicia Down | 6:15:7 | 3 |
| 4 | Amelia Butlin | 6:16:2 | 3 |
| 5 | Julia Bell | 6:25:0 | 3 |
| 13 | Chris Stenner | 6:25:6 | 2 |
| 6 | Harriet Butlin | 6:30:1 | 2 |
| 7 | Charlotte Evans | 6:32:2 | 1 |
| 14 | James Parker | 6:32:4 | 1 |
| 8 | Amy Inchley | 6:36:9 | 2 |
| 15 | Chris Dimmock | 6:38:4 | 2 |
| 16 | David Parker | 6:38:6 | 2 |
| 17 | Andrew Hallworth | 6:40:5 | 3 |
| 18 | Toby Miller | 6:40:9 | 2 |
| 9 | Katie Haylock | 6:42:8 | 2 |
| 19 | Tom Pervis | 6:49:0 | 2 |
| 20 | Jacob Leigh | 6:54:1 | 2 |
| 10 | Dana Carter | 7:04:4 | 2 |
| 11 | Jeni Read | 7:05:5 | 1 |
| 12 | Jude Giltrow | 7:43:8 | 1 |
| 13 | Kate Johnson | 7:46:9 | 1 |
| 14 | Alison Bell | 8:01:9 | 1 |
| 15 | Sue Johnson | 9:11:1 | 1 |
| 16 | Liz Miller | 10:06:9 | 1 |
| 18 | Sheryl Carter | 10:09:1 | 1 |