Opposite ends!
As we all know, there has been a huge dearth of races and meaningful competition since the middle of March. It would appear however that we're starting to come out the other side now, with race organisers working with the current restrictions to still put on events.
While the track and field season was unfortunately ruined, distance running events are making a return. Interestingly two of the earliest events that club members have taken part in have been at opposite ends of the distance running scale. So here we have two reports from consecutive weekends of racing. Below you'll find James Bell's account of the Race the Tide Marathon, but first up is Sam's take on the NoblePro 5K PB Special. Enjoy!
Noble Pro 5K PB Special
26th September, 2020 Milton Keynes
After 6 months of virtual runs, lonely time trials and not-parkruns, there was a sense of nervous excitement around the start of the NoblePro MK 5km PB Special run last Sunday. It was good to be back at Willen Lake having previously moaned at the amount of times we end up running there each year (parkrun, Wolverton 5, Winter Half etc) and we parked up with plenty of time to suss out the Covid secure rules and get a warm up in. We needed it. The famous Willen wind was definitely present and blowing from a Northerly direction it brought a severe chill to those decked out in short racing shorts as they prepared themselves for their own individual battles with their target times.
The set up was all very well organised with the Number collection away from the car park so we collected our numbers as part of our warm up. All the toilets being closed wasn't ideal but that never stops real runners!
Each race as it comes back seems to be organised in slightly different ways with this one arranged much like the MK5000PB races on the track last year, with waves of around 10-12 people all worked out by the time you predicted. The waves ran every 5 minutes from 9.00am to around 11:20am, with the faster runners running later in the day.
First up for LBAC was Ruth Eastman who had been persuaded over a n early September sunny Sunday pint or two to enter based on her HUGE PB at the final Stag race. We knew she would do something special and we were not disappointed. With a PB 21:53 before the race, Ruth had set her sights on breaking 21 minutes for the first time and absolutely smashed it running 20:31! Well done Ruth.
Next was Jo Sharples who having had a stress fracture at the start of 2020 had managed to recover and get fit enough to run the virtual Boston marathon in an impressive time of 3:11:23 a few weeks before but hadn't managed to rediscover her speed. This was race was going to be about laying down a marker with something to build on and with a target time of 19:00, Jo ran 19:01 and was very pleased with herself! The remainder of 2020 will be focussed on whizzing around various loops to get back under 19 and near to her PB time.
I was up next and thinking I'd left myself plenty of time to arrive in the starting pen, (2 minutes is long enough when you're not supposed to be mixing too much!) I strolled up to hear, "we're still waiting for 254." I looked down, already knowing that my race number was 254 and quickly scuttled into the pen. It wasn't long until starters orders and we all lined up knowing a proper race was on.
The hooter went and we sped down the hill in Newlands towards Willen Lake, turned left and circumnavigated the Northern lake anti clockwise before turning back south towards the finish. The first km was fairly sheltered and flat, but we knew there was a stretch going directly into the wind. This was, as Elliot Hind had put it at the start, "500m of hell" before we turned back around and into the relative shelter around Willen Hospice. The lead bike shouted, "that's the last of the wind!" encouragingly to the 4 of us who had been leading the way. I knew this was a lie as we turned again and headed North again for one final blustery stretch. However, after that it was almost a mile of flat or downhill, back past the Japanese Pagoda around one last twisty section under a roundabout and then the finish. As I slowly eked out a lead over the last 500m I could see Jo, Ruth and Will cheering
from near the finish and Richard Inchley shouting firmly to run to the second timing mat and it was done.
I ran 17:46 which is my 4th fastest 5k ever (including the downhill MK Rocket course) so I was really very pleased! It was so good running with people too and the front 4 of that wave were always within sight of each other. A quick chat to some of them after and it transpired that 2 of them had ran under 18 minutes for the first time. That's what these races are all about!
Rob Elmore still had to run so we used our cool down to see some people we'd not seen in ages as well as supporting Rob briefly. He finished in 16:21, not far off the club record for V35, but I'm sure he would have wanted to claim that for his own!
All in all, it was great to be back and run a proper race, with proper targets, see some friends we hadn't seen for a long time and see some fast running! We're looking forward to and hoping that there is another one organised soon and would
Race the Tide Marathon
19th September 2020, Devon
The long and short of Race the Tide is that it's hilly (1,341 m elevation gain), slightly long trail marathon (43 km) that took a while to finish (4.40) but as far as marathons go, it was a well organised adventure by Pure Trail I shall not forget too quickly.
For me, lockdown began at work when I received an email on the 20th March notifying me of future constraints on my usual working day due to Covid-19. My response to this madness was to challenge myself and do something different. To cut a long story short, I decided that because I don't like marathons, I'd enter one to see if I could start to enjoy them. I think I was hoping for some kind of runner's metamorphosis.
My Strava profile is crammed with trail runs and almost no road running, so I was not going to lower the tone and do some kind of boring tarmac event. No, this would be a trail marathon. What proceeded in terms of training preparation was, well alternative, largely consisting of slow bird watching runs and general wildlife ogling. For me though, this was the point, as I was not going to slog my guts out on some advanced marathoning plan; I wanted a marathon where finish times did not matter, just getting round would be the objective. So, I entered Race the Tide in Devon on the 7th of April, knowing that this may be a challenge too far, but what fun to find out if it was.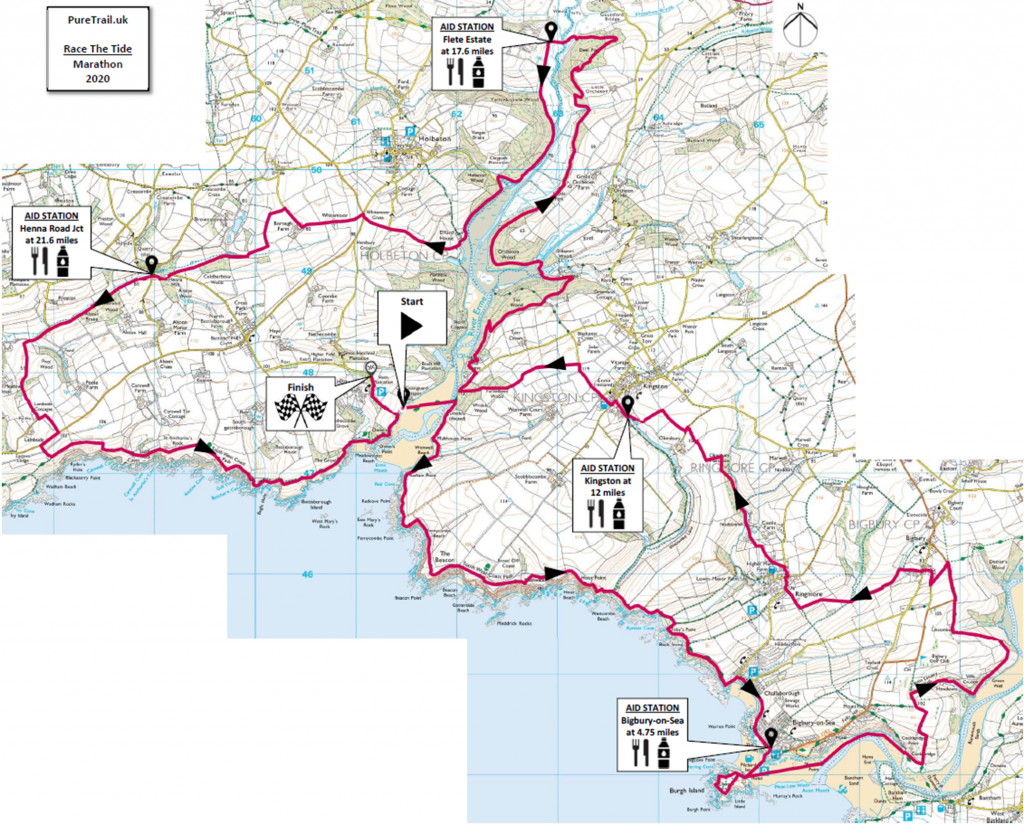 I did a lot of hiking in the summer with Mr P, our dog, spent a week running and walking on the Isle of Mull, ran the Ridgeway with Ian Grimshaw and friends and as Covid-19 news got progressively worse, I didn't think that the race would take place. Still, I had enjoyed myself because I had not taken training at all seriously. How different marathon training can be; for my sub 3 attempt at the Loch Ness Marathon in 2015, I was focused, knackered and grumpy for months (said my wife).
I stood in the doorway of our rented B&B the day before the race. 'Oh no, I've got a race e-mail' I said to Al, 'what, is it cancelled?' she replied. 'No, worse, it's actually on and I don't feel at all ready'. I did something I had done in Loch Ness the day before that marathon and went for a dram of whisky – I don't drink spirits, but this was an exceptional moment in need of some reflection.
If I am honest, I really hoped it was cancelled, but as I found myself on the start line, my mindset changed and I got myself into groove. Terrified that I was going to get lost, I had bought a Coros watch earlier in the year which allowed me to load the route and follow the breadcrumb trail. I did not need it though as the route was well marked with flags carefully placed by the race team the day before.
The race starts by running across the River Erme sand flats at Mothecombe. The seawater was knee high and produced quite a strong current, but the immersion was short-lived and soon I found myself on Devon's coast path, heading east towards Burgh Island where there were more sand flats and a ton of people. The first 10k is 408 m of climbing and the gain to the half was 795 m. As I ran over the sands at Bigbury Beach at 11 km, I made the turn inland and a new challenge began.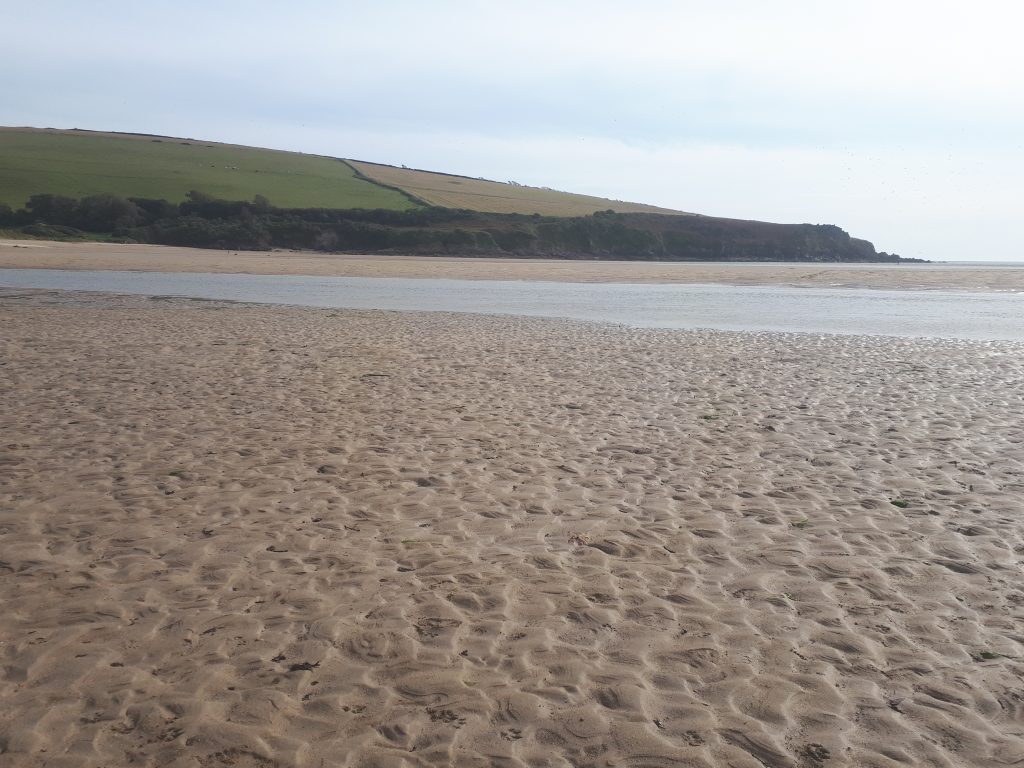 Me and cattle have had a chequered history. I have worked on plenty of farms since I was 13 but one event in a Gloucestershire field in the 1980s in which a white Charolais bull charged me, changed my relationship with cattle for life. Running on my own I ventured into a field of Devon bulls, a breed I did not know. Suffice to say I was extremely cautious (read stationary!). I am chuffed that my sweet talking allowed me to circumnavigate the herd – another lockdown challenge overcome!
The route changed from farmland to woodland as we ran north along the eastern edge of the River Erme through Furzedown, Tor and Ocheton woods, all part of the Fleet Estate. Whilst we were still going up and down, added to the mix were fallen timber, gnarly trails and a few villages too. I had already met Al on the sands at Bigbury Beach but was looking forward to seeing her again 20 km later with my supplies at the 31 km mark on the western edge of the estuary at Holbeton Woods. It could not come too soon. I was hurting.
I'd made it to 21 km in 2.09 but that extra 9 km to the 30 km mark took an hour. I was running all the time, overtaking a few and really grinding it out, but was in unknown territory. I was pleased to see Al at 31 km, but pretty much the first thing she said to me was that just around the corner was a really tough section that she had struggled to walk with fresh legs. Great! I relented and walked it – the body unwilling, the mind having a sort of rebellion – a surprise for me I always thought I was mentally tough.
Crossing the road at Whitmoor Cross in 3.19, just left the matter of 10 km do. I told myself this repeatedly, chunking the 10 km into smaller bits – I was quite determined to finish. Through Coldhabour Woods I found myself distracted by the beautiful scenery and was deluded enough to tell another runner that we should be at the finish in no more than an hour tops. It actually took me twenty long minutes more.
Turning home along the coastal path at the westerly fringe of the route, I was in high spirits, even smiling to Al at 38 km, but that was short-lived. The last 6 km was absolutely brutal; I was running
with a clipped stride, my head had dropped and I looked like a man defeated. Three hills, each with a 20% grade fell between me and the finish line. I death-marched each of them, then through a sandy beach and trundled to the finish line. Whatever happened out there, I have to thank my lovely wife, Al, for making it considerably easier, so long as I ignored her comment at the 31 km mark. Pure Trail ran an exceptional event in unprecedented times. Well done them, I highly recommend Pure Trail if you are looking for an exceptional run, just be careful what you wish for!