News
The heavens opened as the runners moved towards the start, confirming that this would be another wet race at the home of British motor racing. But a quick shower didn't dampen the spirits of the 15 LBAC athletes who had made the journey to Silverstone for a change in their Wednesday training routine. The setting provided a good speed training session with those serious athletes keeping their trainer tread warm in the pit lane from where the race starts.
Billy Mead, on good club qualifying form, took pole position from the start. He started to run out of fuel towards the end, but still beat his PB with 36.14, a fantastic effort. Andy was in second place on the grid and also on the circuit for the majority of the race, but blames his backup team for not displaying the board to let him know another Junior was hot on his tail. Jordan ran a negative split on his final lap to overtake Andy and secured 2nd step on the club podium with a PB of 36.20. Then there was an onslaught from the Inchelys, Andy and Tom taking the next two places and closing the team of four in 56th place. This shows the high quality of this event with the club placed 8th overall.
Elliott Hind and James Bell both ran well with sub 40 minutes on the day. Another Inchley (Tim) and Nick had better runs than expected showing their pre-race tactics were paying off (staying under cover and not getting wet!), taking a place in the middle of the grid and making their way through the field. Charlie Mead had a good run and promises to beat his PB next time! He followed them in with 41.22, a good effort. Chris Dimmock followed closely, beating his PB with a 42.13 on the night. Another PB by Chris Williams in 44.31 was followed by Roger Seldon who finished 6th in his age group.
Chris had convinced Aaron that this flat 10k would be a good one to do and he turned out for the first time for the club completing 2 minutes under the hour, having been paced by Anna Mead for the majority of the race. Fi's continued injuries shown by her split times were disappointing to her. But as always she finishes what she starts showing Great Spirit. Talking of spirit, with no Champagne to toast our podium finishers, those who could headed off to a local pub to complete a fantastic night of racing, with the majority looking a little green afterwards (but that was just the tee shirts).
Thank you to Richard, Amy and bump for support and photos. This race is a perfect opportunity to lower your 10k PB (as is the Silverstone Half in March) although you can expect the wind to always be there!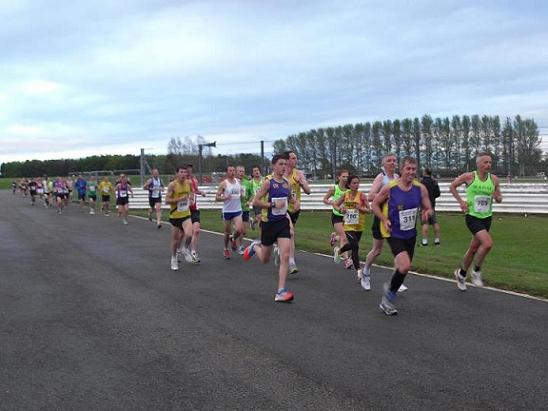 Last Updated ( Wednesday, 15 May 2013 )
Marathon running has never been so popular and 13 club members tackled the 26.2 miles this spring. Legend has it that the marathon dates back to 490BC when some Greek bloke ran the 40km from Marathon to Athens to announce victory in a battle (there were no mobile phones in those days you see). Therefore every year, thousands of runners feel compelled to commemorate this feat of endurance running by subjecting themselves to the same mix of toil, sweat, dehydration, chafing, exhaustion, tears, and sunburn.

To all those who completed a spring marathon, we salute you. To all those contemplating it in future, you must be mad!! But we understand, because after all, all runners are slightly mad.

Brighton (14th April)
Whilst not completely flat, and often exposed to the wind, this race still has a good reputation for fast times. It is fast becoming a preferred alternative for many of those who miss out on a London place.
(Entries for 2014 are already open: http://www.brightonmarathon.co.uk/enter-2014-brighton-marathon).

Kate Owens continues to quietly go about rewriting the club marathon record. In Brighton she ran 3:23 which took 9 minutes off her previous best, which was already the club record. Her pacing was spot on with 1st/2nd half splits of 1:41 and 1:42 respectively. She finished an amazing 24th out of 3,205 female finishers! Her time comfortably earns her a Good for Age place for the 2014 London Marathon.

Also impressing in Brighton was Ian Grimshaw, who took a 5 minute chunk off his PB to finish in 3:04. This placed him 105th out of the 9,157 finishers, and also earns him a London Marathon place. No doubt he'll be looking to continue his progression and finally crack the sub-3.

London (21st April)
The LBAC London Marathon injury curse struck again this year. Six club entrants made it to the start line, but most of those had their training ruined by injuries. Meanwhile a further five were forced to miss the race completely. For those that ran, the warm temperatures following months of arctic training runs didn't help either. However all of our starters finished the race, and they still produced very respectable times, considerably faster than the average time of 4:27 achieved by the 34,217 finishers.
(If you haven't already entered the ballot for 2014, it's too late!)

First home for the club was Stuart Blofeld, who decided that doing a marathon might be good training for longer challenges that await him later this year. With his previous PB of 3:17 being set at Snowdonia, it was about time he ran a 'proper' marathon. And he didn't disappoint, he ran a near perfect 1st/2nd half split of 1:29/1:30 to finish in 2:59:35 and sneak inside the illusive sub-3hr barrier. Not bad for a plodding Ultra runner, it's just a shame he doesn't appear in the official results!

Six months ago, Chris Williams couldn't even walk and there was no prospect of him running at all. And so the LBAC London Marathon injury curse began. However, Chris wasn't going to let the completely knackered back stop him. He managed to overcome the club curse, and his injuries, to finish his debut marathon in a very respectable 4:10. Here's hoping he can remain injury free for another attempt.

Ian Hosley had an interesting race. Having been ill the night before, he still took up his place on the start line hoping he was over the worst of it. Unfortunately he wasn't. He was sick several times during the race, which ruined any targets he had. The 20km-30km stretch was particularly tough, but after he had deposited the contents of his stomach on a London street, he sped up considerably. Over the final 7km he overtook 1,561 runners (whilst only 6 passed him) to finish in a highly commendable 4:02. This means that over those final 7km he passed 40 runners every minute, or one for every one and a half seconds!

Joe Hurley and Fred Watt are two of our stalwart veterans, both of them have multiple London appearances earned through Good for Age qualification. Both have been injured but decided to run anyway, because "it's good training, isn't it?" Therefore both should be pleased with their 'training' runs, with Joe finishing in 3:25 and Fred in 4:08.

Having cracked the sub-3 in Amsterdam 18 months ago, Andy Inchley was disappointed with his time of 3:14 at London. His build up was hampered by injury and illness, which probably contributed. He should console himself with the fact that to be disappointed with 3:14, you have to be a pretty good runner in the first place. And he still holds the Inchley family record!

Milton Keynes (6th May)
Milton Keynes is another new-ish marathon. Five club members were amongst the 2,042 finishers in the race which starts and finishes at Stadium MK. Last year's race was freezing cold, wet, and flooded in places. This year spectators were rewarded with a glorious May bank holiday, which made it difficult for the runners.
(This race doesn't normally fill up, and you can even enter on the day!)

Several of the MK marathoners had slipped under the radar somewhat during the build up, and Gary Stratford certainly falls into that category. Perhaps this demonstrates his training was going well with no dramas. Despite the warm conditions, he put in a stunning run to finish in 3:11. This placed him 59th in the race (19th V40) and earned him a London Marathon qualifying time.

Another club member who has recently caught the Ultra bug is Helen Crossland. She has been gradually increasing the distance of her races with bigger challenges to come later in the year. Her marathon debut of 5:03 is a very solid performance, and useful training miles in the bank!

Warren Rose was running the MK marathon for the second successive year, making him an ever present in the event. Fingers crossed he gets a London ballot place so he doesn't have to consider a third run around MK next year! His time of 3:41 was 20 minutes down on last year, which partly demonstrates the much harsher running conditions.

Narrowly behind Warren was Dan Webb, who was completing his second marathon. His time of 3:43 was a PB, beating his previous best from Nottingham two years ago.

Last but my no means least was Jon Hull, who surprised us all because nobody realised he was running until a few days beforehand. We don't know how his training went, or whether he'll be attempting another one, but his 4:16 was a good solid time in those conditions.

Summary
So Stuart and Kate lead the way after the Spring races, but there's all to play for with over half the year remaining. Several club members have already pencilled in visits to Abingdon, Berlin and Amsterdam in the autumn to see what they can produce on notoriously flat courses.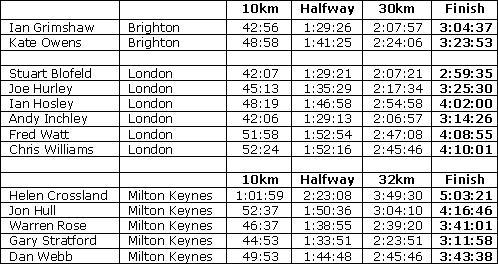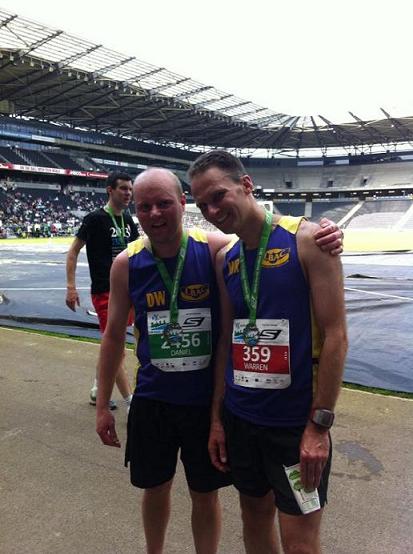 Last Updated ( Tuesday, 07 May 2013 )
London Marathon - General Ballot
So after yesterday's London Marathon, the focus already turns to next year's race!

The general online ballot opens on Monday 29th April. We're not sure what time the ballot opens, they deliberately don't advertise it. Last year it opened at midnight!! It always fills up VERY quickly so if you intend to enter you have to do it early. Once you're in the ballot, it's fingers crossed!

Next year's race is on 13th April. Expect more details to emerge on the website during this week. (http://www.virginlondonmarathon.com/)

London Marathon - Club Ballot
In addition to the general ballot, the club also receives some guaranteed marathon places (normally two) which we can allocate to our members as we see fit. As with previous years, the procedure for the club places will be as follows:

1. You MUST be a paid up member of the club for 2013, and you MUST retain your membership for 2014.

2. YOU MUST ENTER THE GENERAL BALLOT WHICH OPENS ON 29TH APRIL. This is vitally important, you will be expected to produce your rejection letter in order to enter the club ballot.

3. Once you have entered the online ballot, can you please forward your details to Pete Mackrell ( This email address is being protected from spam bots, you need Javascript enabled to view it ).

4. Once the results of the general ballot are known (usually in October) we will hold the club ballot shortly thereafter. Please note we will not be doing the ballot for the club places during the club dinner this year, instead we will await the results of the general ballot in October.

5. You are not eligible to enter the club ballot if you received a club place for 2013.

6. If you have the Good For Age qualifying standard you must use this and not enter the club ballot.

Good luck!
So with one race to go, Warren needed to be in the first five on the final night and beat Chris Large by seven place to tie and eight to take the title after finishing third last year. Clearly, Chris just had too stop that happening.
Advantage one went to Warren as Chris was laid up in bed with one week to go, but this may have been counter-balanced by Warren doing a 22 mile run over the weekend as marathon preparation.
However, the tide turned further to Chris' advantage as the Easter holidays meant that only 13 people turned out for the run on the night, therefore reducing the number who could get in between the two of them.
The race started in the shelter of the wall in Parson's Close, but as soon as each runner hit Grovebury Road they turned in to a very cold wind that stayed in their faces until the corner. It made pretty tough going for everyone and correspondingly the times were not the usual raft of April PB's, but nevertheless there was a very close knit group at the end of lap three battling for positions.
Chris was caught and passed by Warren somewhere near the football club and then the question was how many people would finish between them. Over the last quarter mile, Amelia got away from Chris and then Ian H, Gary and Andy all added to the points between them down Grove Road. In the meantime though, Chris had gained a place back by passing new man Mark Cohen himself and was desperate to get to the finish, knowing there were still a few behind.
As it turned out, that was it and a strong run by Warren to come home third for 23 points was not enough as Chris gained 18 for eighth place and earned a total of 112 points for the season. Warren finished with 110 which would have been enough for victory in two of the previous three years.
Both results were richly deserved as Warren has run all seven races and achieved three personal bests while Chris' six races have seen four PB's. On the night, there were two further best times earned by the two who manged to pass / stay ahead of Warren, with Stu Blofeld running 14.02 and John Boulder 19.04. Both were very good runs on a cold and windy evening.
The battle for third place was equally hot this year, with four people finishing within five points of each other. John Boulder with 87 points was just pipped by Gary Stratford (88), Andy Inchley (90) and Amelia Wallace with 92. All of them scored strongly on the night but Amelia's five consistent races were enough to earn the bronze medal.
Things to note at the end of the season are that only seven people completed five races and they occupied the first seven places. In addition to Warren, Stuart and Andy also ran all seven races across the season. The fastest times of the season were 13.44 by Jordan Clay and 17.37 by Kate Owens. 41 different people took part with 30 men and 11 women, (7 of the 11 ladies only did one race!!) and 19 of them achieved PB's at some point in the season.
All in all, it was a very good competition with the two people who consistently improved the most turning out as the leading contenders and using the event to really improve their speed. It will undoubtedly be back on in early October so make sure you start the new season positively with a strong turn-out on the 2nd. Also, have a read of "Andy's Handy Hints" if you really want ot know how to win!
Many congratulations to Mr Large.
Last Updated ( Saturday, 27 April 2013 )
With just the Stag Trophy final positions to be sorted on Wednesday, Easter Monday saw the 35th running of the Christmas handicap, also known as the Langmay Trophy.
With near freezing temperatures urging people to stay indoors, it was a relatively small group of 11 that met Dave Adams in the Football Club car park at 11am, desperate to get under way, just to try and warm up.
The very simple route heads out along Stanbridge Road, over the bypass before curving round to Billington where a right turn takes you up and over the hill and a straight run back in to town. It is around 5.6 miles and is historical rather than significant in any way.
The concept of the event is that everyone starts together but Dave has a secret list of predicted times for each runner. The winner is therefore the person who beats their predicted time by the largest amount.
This year's race involved running into a bitterly cold head wind for 2.5 miles before a short respite and then a nasty climb up Billington Hill. In theory we then had the wind at our backs for the final 1.5 miles, but we were all so cold and tired, it really didn't feel like it. Having just spent two sentences whinging about the race, in actual fact there were some pretty good runs.
With the exception of Alex Britt, whose university life is clearly taking it's toll, we were all pretty close to Dave's prediction, however there was a clear winner. An excellent run by Jane saw her beat her time by over a minute, but regular long runs from Chris Dimmock saw him power round the course nearly two minutes ahead of time to win the trophy that his father won ten years previosuly. Full results are below;
| | | | |
| --- | --- | --- | --- |
| Position | Name | Time | Difference |
| 1 | Chris Dimmock | 38:33 | -1;47 |
| 2 | Jane Sauer | 41:36 | -1:04 |
| 3 | Liz Miller | 52:21 | -0:51 |
| 4 | Roger Seldon | 41:26 | -0:44 |
| 5 | Andy Inchley | 33:44 | -0:31 |
| 6 | Joe Hurley | 36:47 | -0:03 |
| 7 | Pete Watkins | 52:29 | +0:14 |
| 8 | Pat Neilan | 45:21 | +0:16 |
| 9 | Dan Webb | 39:52 | +0:17 |
| 10 | Mark Haynes | 50:37 | +1:17 |
| 11 | Alex Britt | 43:05 | +4:45 |
Last Updated ( Tuesday, 02 April 2013 )
<< Start
< Prev
1
2
3
4
5
6
7
8
9
10
Next >
End >>
Results 1 - 9 of 266