| | | |
| --- | --- | --- |
| Round MK Relay | | |
This year's round Milton Keynes relay saw the biggest event ever, with 19 teams and one solo runner entered to take part on the day. As a club LBAC had entered five teams and Stu Blofeld was the crazy soloist who decided to take on the 31 miles of multi terrain on a Sunday morning.
The event is very low key, with no marshals at all and is really set out as an enjoyable navigation round the edge of the city. The four legs are quite distinctly different and there can be something for everyone.
As team co-ordinator Andy decided that he would try to make the teams as even as possible and with teams selecting their own handicap the aim was for all the teams to finish at 1.30pm before heading off to the pub. This meant that the five Leighton teams all started with 15 minutes of each other, although this was over an hour after Stu had set off with the first team.
A chilly morning in Stony Stratford meant people were unsure of suitable clothing for the 10.2mile leg along the river and canal round the North and East of MK down to Woolstone. Our five teams were five of the last six to start, which suggested that they should be some of the quickest teams - or that other people were blagging their handicap!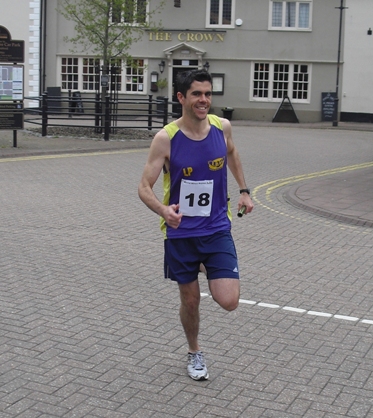 Amy set off at 9:31 followed in consecutive minutes by Jane, Tim I & Joe before Laurie left a further ten minutes back for Bianca's Barmpots. Whilst leg one is the longest of the four, it is certainly the flatest and is the only one with no cross-country section at all. Following a month of reduced running and suffering with a slight hangover, Jane didn't quite have her best run ever but managed to complete in a respectable time nonetheless. After removing her gloves at half way, Amy had a cracking run to finish in 76 minutes as the quickest of the four ladies running the leg.
Despite being the last starter and only seeing Jane on route, Laurie had a really strong run to finish in 67 minutes while Joe led Amelia's Amblers off to a strong start with 69 minutes and Tim's time of 70 minutes meant all three of our men were in the fastest seven overall.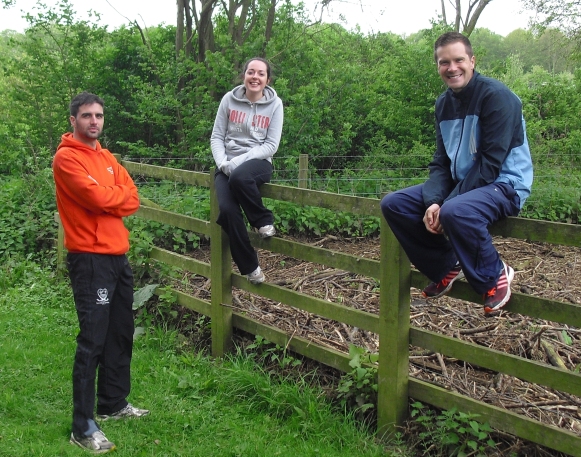 Leg 2 is the shortest of the four with it being 5.5miles from Woolstone to Bow Brickhill. After Stuart had completed leg 1 in 81 minutes, he started this one on his own a few minutes behind the team he started with and managed to be 10th quickest on leg 2 by covering the ground in 45 minutes. Joe's run meant that John Adam was the first of our team runners to go, a couple of minutes ahead of Liz who had taken over from Tim.
Pete W ran leg 2 for Amy's Amigos and was targetting both Liz and John, while Bianca and Fred had a bit of ground to make up for their respective teams. It turned out that John just held off Pete to hand over to Pete M as he Liz and Bianca all ran times within 12 seconds of each other. With Fred having a strong run to be one of only five people under 40 minutes the teams had certainly got closer together by the time the Bow Brickhill handover came, although all still towards the back of the field.
Leg 3 is the bugger! It is 9.6 miles, with a mix of cross-country, roads and many stiles and gates to break up the rhythm. The five people who were running it were virtually the only ones who were prepared to, but four of those were the quickest four on the day. Dan's birthday had taken a little toll on him and he joined Jane's club in terms of slight hangovers. The problem was they were in the same team! He did manage to get round in 79 minutes without get lost though, which is something of an achievement.
After Watters had snuck past Liz, Andy had about a minute to make up on Pete M, but knew that Chris and particularly Rob would be looking to chase him down. As it turned out, Andy had a crazy run and caught Pete after a couple of miles and continued on to complete the course in just over an hour and break the record for the route. Pete and Chris finished a few minutes behind in 64 minutes. According to their own timing, Chris was 1 second faster but the vagaries of the event that isn't quite shown in the official results! Rob also stormed home in just over 61 minutes to set up a close run in between four of the teams.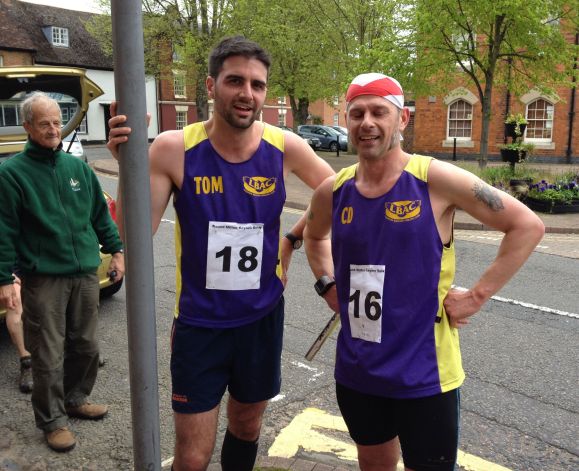 As it turned out Stuart finshed way in front of all the Leighton teams after covering the distance in 4:37. However, four of our teams finished within three minutes of each other after completing the muddy 10K final leg. Tom I brought Bianca's Barmpots home first with the second quickest final leg of the day and he battled hard to catch Chris D for Liz's Layabouts who were just behind. Richard brought home the baton for Amy's Amigos as Amelia finished a touch further back.
Phil Brunton closed out the event for LBAC athletes as he was fourth quickest on the day for Jane's Joggers. After a minor trip back to collect forgotten car keys (!), most people made it to the pub for lunch and a pint. None of our teams won either of the prizes but Bianca's Barmpots were 3rd quickest overall with 3:42:42 and Amy's Amigos were 3rd in the age adjusted results.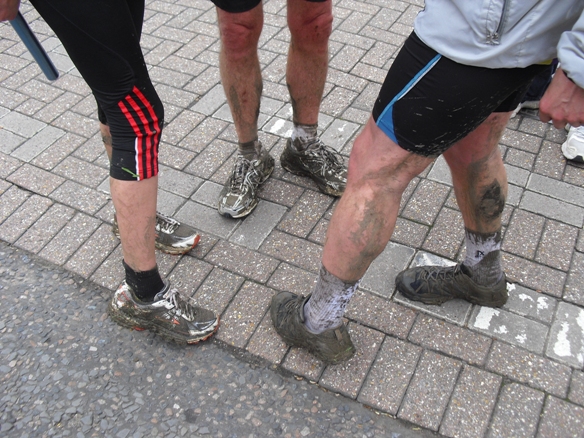 Last Updated ( Friday, 25 May 2012 )