| | | |
| --- | --- | --- |
| Lanzarote - Club La Santa | | |
For anyone not familiar with the Lanzarote trip described below by Richard, a group from our club go to the Club La Santa sports resort in November each year. At the resort the facilities for all sports are very good and almost all are inclusive once you've paid for accommodation. We go that particular week because there is a 4-day running challenge, but please don't be put off by that, this is very much a holiday with no obligation to participate in any sport whatsoever!
Pete M.
Having spoken to Sport Tours regarding Lanzarote, they have said that they have less rooms this year due to the renovations and therefore we will need to be ahead of the game in order to get the rooms we will want! Prices are not out yet, but are expected in the next couple of weeks, and will probably be about 4% more than last year. to tie in with inflation in Spain!

I am looking for a commitment from you for this year as soon as possible, without firm prices I know this may be difficult but it is the only way we can guarantee getting the accommodation we want. We do get a 10% reduction for more than 20 which I am sure we will get. I need to know whether you will be 7 or 10 days, commencing on Thursday 22nd November, whether you are a yellow, green or red apartment. I will need a £100 deposit from you if you are definitely going, as usual made payable to "Club La Santa". The balance will be due at the end of August.

If you have not been before and have questions, please contact me, or indeed anyone who has been before. You will need to book your own flights once the accommodation has been confirmed, and I can help you with options at that point, and I will keep a track of who is travelling when and where from.

I know that eating out every night can get a little expensive, so can I draw you attention to the possibility of half board, which I think is about an extra £180 per week and includes breakfast and meals in the "Atlantico Restaurant" (eat as much as you like). If there are enough interested I am sure that I could organise group meals for around 20-25 euros at places like Verdi Mar, Bike Stop Cafe and Grillen and of course we could have buffets in someone's room etc.etc. as well as the odd nights out at restaurants. As we always say, it is your holiday to do what you want, I am just pointing out options especially for those who have not been before.
Richard

International Challenge Week
The Club has for every year since 1990 been taking groups of both athletes and non-athletes to Club La Santa in November for the week of "The Challenge"
Club La Santa is a world renowned sports resort catering for every sport you can imagine, and in the week that we go it is aimed particularly at runners. These runners (or indeed non-runners) enjoy the week enormously for the competition, the social life, the pre-Christmas sunshine and the fabulous atmosphere generated by the guests over the week.
"The Challenge" was first run in 1989 so 2011 is the 23rd running of the event, and some Club members have been to every one since 1990. Our largest party has been 36 with some 17 of us completing "The Challenge" and last year there was a very merry band of 22.
It is certainly not restricted to Club Members, for many years we have been joined by runners from Bearbrook Joggers, Milton Keynes AC, Ampthill and Flitwick Flyers and North Herts Runners, and indeed friends unconnected with running and basically anyone is welcome to join us for what we think is a great holiday.
We travel to Lanzarote on a Thursday and the races start with a 10K on Sunday, the "Ridge Run" on Monday (14K), a beach race on Tuesday (5K) and a half marathon (21K) on the last day (Wednesday).
If you do not wish to run and just enjoy a leisurely lifestyle that is equally fine, or you can borrow bikes, swim in the Olympic size pool, play any number of racquet sports or hone your Pilates, Yoga or Spinning skills, the list is endless. There is a well equipped gymnasium, a new "Wellness Centre" as well as excellent restaurants and bars. All sporting facilities are free with no hidden costs unless you play golf or go diving.
Prices have remained very stable now for a few years, with prices starting at about 400 per person for the week (including the flight from Luton or Birmingham and transfers) with three people sharing an apartment. This cost can be increased with rooms with views and having only two in an apartment. Food can be cooked in your rooms and bought from the on-site supermarket or as we mostly do, you can go to one of the many restaurants nearby and enjoy a meal at reasonable prices.
If you are ever interested in joining us, please contact Richard Inchley on 01908 507017 or This email address is being protected from spam bots, you need Javascript enabled to view it for further details.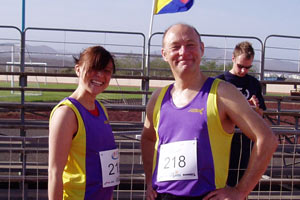 Last Updated ( Sunday, 19 February 2012 )