January Sunshine
I may be about to put a curse on it, but considering the Southern Cross-country championships are always at the end of January it's amazing how often it's a glorious day! In the middle of whole load of wet and windy weather there was a break again this year and last Saturday saw wintery sunshine spread over the Heath in Hampstead for much of the day.
This was a great relief to the thousands of runners and spectators who make an annual pilgrimage to this home of cross-country running for either the Southern champs (2 out of 3 years) or the national champs (1 out of 3). It isn't the hilliest, longest or muddiest cross-country ever, but it is one of the longest and one of the muddiest on a pretty hilly course. In the world of cross-country that Leighton Buzzard lives in, it really doesn't get any tougher.
Despite all that, cross-country seems to be under-going a significant resurgence and numbers for this event were as high as ever. There were over 1000 finishers in the men's race and I don't believe that's happened for a long time, certainly not in the last ten years.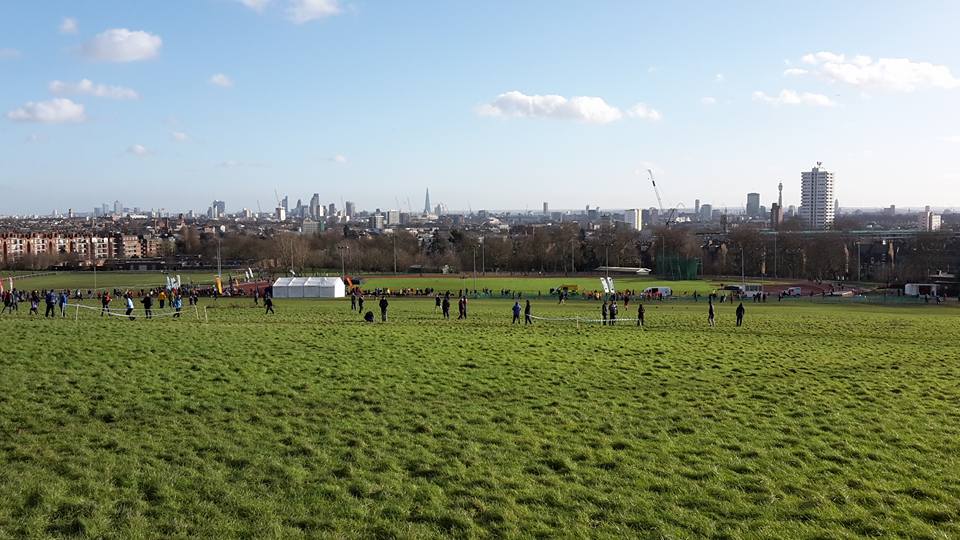 So with the sun on their backs and a "fresh" course ahead of them the U13's of the Leighton got first use of the infamous Parliament Hill. Unfortunately for Niquole Carter as our only representative in the girl's race, the squelchy mud managed to dislodge her spike half way around the race and she finished with just the one shoe on, but at least it's a (slightly painful) lesson learned.
The U13 boys is a bit crazy. There are so many of them running a relatively short distance that in the middle they are coming in at more than one every second. Dom Grimshaw led the team home in 137th, but 30 seconds either way would have gained or lost him 40 or so places. It's really very small margins. Owen Lindars was 31 seconds and 38 places behind with Harry Bell a similar gap back in 208th. Max Rose completed the top 250 and rounded off the LBAC team who finished in 26th place.
We were delighted to have two U15 girls take part, with Dana Carter doing very well to hold her own in 209th and McKenna Keefe keeping up her 100% appearance record for this year in 242nd.
With a dearth of older teenagers there was then a bit of a gap to the U20 men and senior ladies races. Charlie Mead has been ever present this season and in what is often described as the highest quality race ran extremely well to come home in 70th. The RunBritainRankings adjudged him to have had an excellent race and he said he felt strong so I'll go along with that.
After having thirteen out at Luton in miserable conditions two weeks ago it seemed somewhat contrary that Amy Farnfield was the only woman taking on the course this year. Amy I was there in support, but decided that it probably wasn't the best idea to run this year. Amy F however, ran an excellent race to finish in 267th, which with just over 500 in the field is a very good effort for someone new to this type of racing.
So finally on to the senior men who really just turn-up so that they can go to the pub on the way home. Most relieved to get into the pub was Colin Postawa, who is also new to cross-country, but fancied the challenge of such an iconic race. He managed to complete the three 3-mile laps ahead of over 100 other people so can be rightly proud of his efforts and it meant that we completed a team in the nine-man competition for the fifth time in seven years.
The other debutante at the championships was Stuart Read who has thrown himself into the season brilliantly by completing each of the five cross-countries that have happened so far and he just sneaked into the top two-thirds of the field too. The two newbies were split by an old hand, with Nick Clay returning to running the Southerns for the first time since 2010. He has yet to decide for sure if it was a good idea, but he didn't seem to think so straight afterwards!
Warren is another ever-present this season and results are starting to show as he had his best ever finish at the champs in just outside the top half. James Bell surprised himself in his fourth consecutive run at the champs by getting into the top 44% and remarkably finishing in exactly the same position at last year – 447th! Chris Norman had a bit of a battle with James but ended up 40 places ahead which meant he suitably earned his pint or three.
As ever Billy Mead started off like a crazy thing in the first mile, but in his first senior race did well to challenge Tom as they came home just 17 places apart in 332nd and 315th respectively. Whilst not a regular at training Tom has barely missed any race all year and his return to Hampstead is very well received. On this occasion Andy was first back in his usual consistent 218th.
All of this resulted in the team of six finishing 34th out of 70, which is our best ever if you discount the year when it was postponed, so very well done to all those that went along and for those that didn't – it's hell, but you really earn your pint so get it in your diary for 2017!