Relays
As a club we love a good relay and compete in a number of different events throughout the year. The majority of these are very social and in each case we encourage participation from all senior members. There is usually a drink somewhere afterwards! Some of the relays are also part of the Off-road Series.
Round Milton Keynes Relay
Sunday 20th May in 2023
This race started life as a very low-key event for MKAC members only, but in recent years it has expanded and now a number of other local clubs enter teams, but it remains low-key and great fun.
2021 was the first time that the relay was run with 5 legs. Navigationally they are quite mixed with the long first leg being the trickiest. The legs are multi-terrain legs which vary from 4.75 – 9.12 miles around the edge of Milton Keynes with a start and finish at Caldecotte Lake. All runners need to navigate themselves around their leg so it's essential to reccie it before the day. Each team is required to have at least one female runner.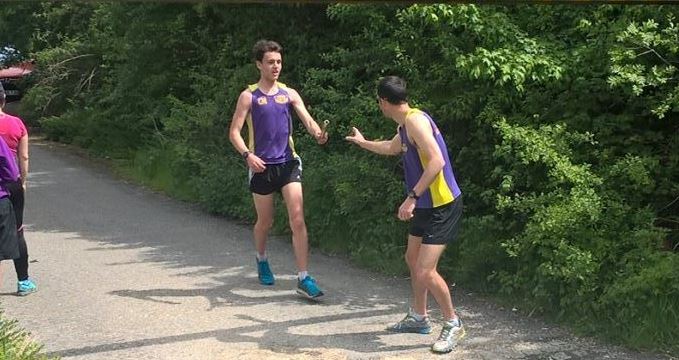 Charlie hands on to Tim at the Round Milton Keynes Relay in 2015
Greensand Ridge Relay
Saturday 17th June in 2023
This is possibly our most popular event of the year as we enter up to 5 teams in the event. It is a 6-stage off-road relay going from the Waterside Park near Tiddenfoot, across Bedfordshire to the village of Northill near Sandy. It is a very friendly event with 45 participating teams from many local clubs all organised by the South Midlands Orienteering Club which also host a website for it.
The legs vary from 3.9 – 9 miles and teams compete for a number of different awards, including mixed and ladies team prizes, which are all presented in the pub at the end of the day. Like MK relay, runners need to know their routes as they are not marshaled.
Ridgeway Relay
Sunday 25th June in 2023
The Ridgeway Relay is a team relay organised by Marlborough Running Club. It is run over ten legs, the legs varying in length from 5.4 miles to 11.0 miles. The route is scenic, hilly and off-road. Teams are responsible for their own route planning & support on the day and we strongly advise that you recce your leg in advance!
Teams compete for a team trophy on the basis of shortest total time taken to complete the course. LBAC managed to win the "mostly women" team prize at their first attempt in 2022!
Round Leighton Buzzard Relay
(aka the Chris Dimmock Round)
Devised during the first lockdown in 2020, the Round Leighton Buzzard Relay is brain child of Chris Dimmock, who being the first person to complete the route around the outskirts of Leighton Buzzard also reluctantly now has it named after him!
Run as a virtual relay in 2020, the following year saw the first "in-person" relay take place, with slight adjustments to the course due to flooding and closing of a pub. The relay was a success with 32 members racing for the first club event in a long time and it's hoped to carry on with this in the years to come. Results from the 2020 virtual and 2021 relays can be found here.
Stevenage 3K Relays
No date yet for 2023
This is the biggest of the relays we take part in, with around 100 teams participating across the genders. The standard is hugely mixed with very high standard athletes running alongside relative newbies.
The men's race consists of 5 runners, while the women's race has 3 to a team and everyone does identical 3K laps of Fairlands Valley Park in Stevenage.
Dunstable Downs 5k Relay
No date yet for 2023
A relatively new relay. Teams of 3 battle it around a roughly 5k lap of the Kensworth Quarry close to Dunstable Downs Visitors Centre.
Squeaky Bone Relay
No date yet for 2023
This event has grown very rapidly from 15 teams in 2012 to over 100 in 2015. It is a 3.5 mile cross-country loop run by teams of four.
It is organised by Olney Runners and takes place on a farm in Clifton Reynes. The name of the run comes from the use of a dog's toy bone as the baton, although in 2015 they even had chip timing!!
As a club we are new to this, but a few of individuals have run it before.