Course Map
In 2019 we have a brand new route. As much as we would like to have kept our much-loved route starting and finishing on Vandyke Road and including the infamous Shenley Hill, due to planning developments around that area we have taken the decision that holding a race and closing the road would just not be safe or viable in future years.
Instead, we have worked hard to find the route below, with race HQ at Ascott House, which is a National Trust property. The route takes in the villages of Mentmore and Ledburn as well as passing through Lower Ascott. You still get some great views and we're hoping it will still be just as loved as the previous route. Below is an OS map showing the route and there is an online version linked below that: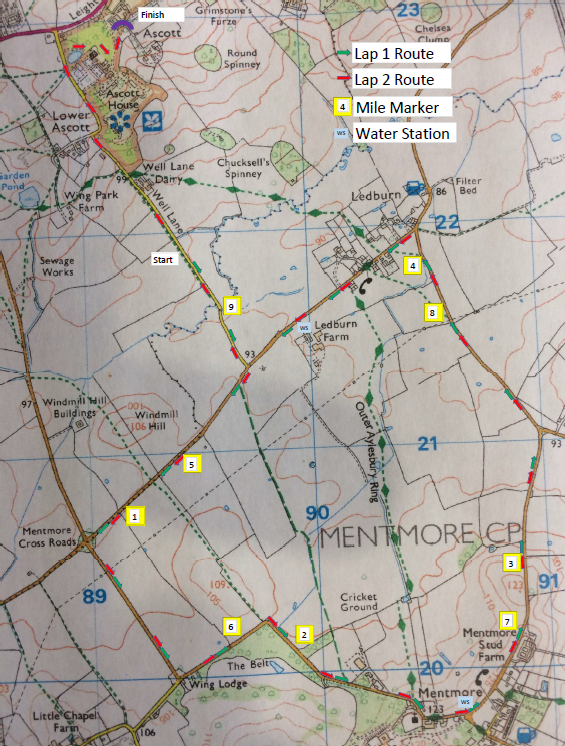 https://www.mapmyrun.com/routes/view/2511211306
The Leighton 10 course essentially has two previous incarnations before our move to Ascott House. Below is a brief summary of them.
2010-2018
The race was based from Vandyke School in Leighton Buzzard and left the town via Vandyke Road and then Eastern Way into Heath and Reach. The route then became pretty rural and very "lumpy" with a climb up to Great Brickhill and a descent down Bragenham Lane past Rushmere. Having returned to Heath and Reach the 9th mile included both Birds Hill and then the infamous Shenley Hill. The final mile though began at the top of Shenley Hill and with a very fast descent and flat finish offered an exceptionally quick end to the race.
https://www.mapmyrun.com/routes/view/17812472
1981-2008
The original route did have to change slightly when the Leighton Buzzard bypass was built in the 1990's but this was really just the start and finish locations as 95% of the route remained the same by starting out to Ledburn and turning left up to Mentmore as the new route does now, but after a lap of the green in Mentmore it went out towards Cheddington and past Cheddington train station to Horton before a very long straight run back down Tring Road to Linslade and finishing on Mentmore Road. The route eventually became unviable when Tring Road was too busy to run down safely.