Sophia Leads Us Home
The fourth fixture of our league cross-country season saw Sophia Watt as the first person to finish from Leighton on the day. Her race was over before 11:40am after completing her Under 11 two kilometre race in just under 9 minutes and 17th place. There were another 55 fantastic runners from the club who followed her home but none finished in a higher position.
Sophia was excellently supported by four others in the shape of Thalia Mason, Charlotte Williamson, Harriet Butlin and Emily Axten-Blackwell and their team finished 8th out of 18. If you can possibly get to Campbell Park a little earlier in February then all of our juniors would appreciate the extra support.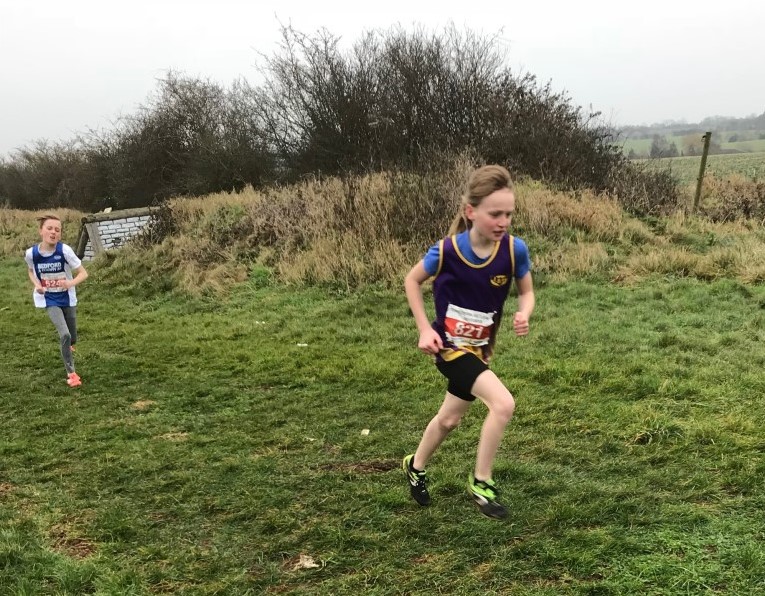 In the under eleven boys our three representatives were Logan Dewar, Archie Wright and Ash Carter. The three lads have each done at least three of the four fixtures this season and will undoubtedly look for a strong finale next month.
The course at Keysoe sticks in everyone's mind as the one where you have to run through the water. It's eight to ten metres of feezing, knee deep "fun", and whilst the under 11's are told they have to run around it, everyone else has to go through it!
First for the honour in the Under 13 category Julia Bell was our sole representative and finished 34th in what is a very consistent season for her. In the boys version we had a full team of four Tytus Grygier and Sid and Arty Mead earning valuable points along with Oscar Butlin who has finished in the 20's in each of his four races this season. The lads finished 8th on the day and lie 9th overall for the season.
In the Under 15's it was brilliant to see six girls in purple and yellow taking on the water splash and there is some excellent competition going on with less than 90 seconds between Niquole Carter, Zara Brooks, Alicia Down, Amelia Butlin and Daisy Giltrow. Leading the team home was Amy Killick who actually equalled Sophia's 17th place, but was 12th in division 1. It emphasises the valuable part that having a group of athletes can have as they encourage and push each other to improve.
The Under 15 boys saw Harry Bell, Max Rose and Will Rossiter all continuing their ever-present record for the season. A solid run in Milton Keynes should see them move up the individual standings and help the club earn some good points for the overall total. Our final representative from the junior was Dana Carter in the Under 17/20 race, who completed her fourth race of the season. Dana is becoming a regular fixture at Monday training as well as Tuesdays so will hopefully be getting involved in some of the road and trail races over the summer.
It was brilliant to see twelve women out representing the club on Saturday, particularly as there were still lots missing. We have had 21 different ladies run XC this season and with one race left, is it possible that we could get close to 20 in February? This time around though, Jo Sharples produced her best finish in LBAC colours as she came home in 18th place. As with the U15 girls there was then some great packing behind with Amy Farnfield, Liz Peters, Amy Inchley and Coralie Anderson and Maria Williams coming home within 80 seconds of each other.
For years we have been drumming home that the key to strong teams for us as a club is in the number of runners, and to have another pack battling together in the shape of Jeni Read, Fiona Towell, Kas Gardner and Nikki Elvin makes a big difference. Both Alison Bell – who had her highest finish of the season – and Uzma Peeran are also constantly improving and will undoubtedly push towards this group as they continue on their respective trajectories.
Following this race the veteran women still have an outside chance of a medal, but will definitely need all of the quickest runners to come along to Campbell Park to overhaul Bedford and MK!
The senior men had another good turn-out of over 20 runners. We can't list everyone here but some performances of note were; Michael Furness improving his finishing position for the fourth consecutive fixture; Stuart Blofeld doing likewise and nearly getting into our first five; Chris Large having his highest ever finishing position; Neil Green, Tom Kimber and Nigel Chesterton all improving significantly on their previous races this season; Pete Mackrell improving for the third time this year and for Huw Morgan-Jones who made this his debut for us over the country.
After four fixtures the senior men's team lie in 7th place, with Chiltern less than 100 points ahead and St Albans just 17 behind. Therefore 6th (and maybe even 5th if we get lucky!) should be our target to close the season. As a club overall, Dacorum & Tring AC are our closest rivals and it would be great to catch them as it would move us into 7th place and the top half of the table, so there's our target people………
10th of Febuary, Campbell Park – Please be there. The races are ordered slightly differently for the final fixture so be prepared:
11.30 under 11 girls,
11.45 under 11 boys,
12.00 under 13 girls,
12.15 under 13 boys,
12.30 under 15 girls,
12.45 under 15 boys,
13.00 under 20/17 ladies,
13.30 senior men,
14.30 under 17 men,
14.35 senior ladies