A Debutants Perspective
By Adam & Katie Haylock
This was the perfect January Saturday with bright sunshine, 11 degrees and very little wind to take on the rugged Parliament Hill terrain. The journey went well, parking was fine, what could go wrong? As we were walking towards the start we bumped into Charlie and Jordan who had already run, only to inform us that they were so muddy they had to be hosed down outside before being allowed in the showers! Next was a glimpse of the start line, a massively wide start line narrowing into a muddy steep hill. We gathered at the top of the hill and started to kit up – spikes out, LBAC "uniform" on, beginning to focus on the challenge ahead.
As always the juniors start the day early and inspire the others ahead. Great runs were had by all including an impressive run by Sadie Towell completing her run in 16:08 ahead of teammates Ellie Rabbits and Chloe May. Next up was Sarah Plummer in the U15 girls who ran a very speedy 18.11 finishing in 120th place out of 285 other girls. The boys were represented very well by Jordan and Charlie in the U17 men, Charlie ran well and finished in 25:12, Jordan had another very strong run in placing 60th out of the 209 runners.
We had four committed senior women taking part and they all looked calm and concentrated as they left for the start while the men trudged up the hill ready to support and cheer on. Lap 1 and first round was Amy looking incredibly relaxed and pacing well. Jane Sauer followed looking strong especially after her tense night nursing Paul who had a serious case of flu (we checked and it wasn't man flu!). Katie and Nikki as always had their composed starts, sensibly conserving energy for the next few miles of quagmire. Amy continued her fine start to 2014 and stormed round finishing 85th out of 466. Jane, Katie and Nikki finished not far behind all with smiles and great times ready to cheer on the men. Despite only having four runners, their fantastic efforts meant they finished a team that came 36th out of 52 on the day. This is superb for such a small club.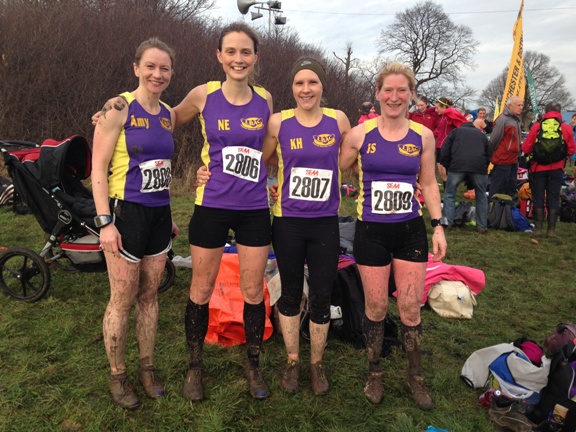 The men were headed towards the start in one group and arrived with not too much time to panic as we were being shouted at there was only three minutes to go. Line up, deep breath, encourage each other. BANG, we're off. A semi-fast but packed start and immediately into mud and hills. Pete and Andy took the lead starting well with the others following behind. It didn't take long to understand how the next 9 miles were going to pan out, extreme mud, hills and uneven footing. We were all positioned as expected during the first lap until unfortunately Chris Norman had to pull out due to his ankle injury (sensible not to push it and he will be back stronger). Richard and Uncle Pete were as always a great support pushing us on and keeping us motivated. It's worth noting the iconic views which certainly gave me a lift each lap looking over the city skyline including the Shard, Tower 42 and of course Highbury and the Emirates. About six miles into the run it suddenly got very dark and a whipping wind kicked in, it was time to dig in and complete the course. Pete (58:24) and Andy (01:01:59) finished well up within the 986 men closely followed by Adam, Elliot, James, Warren, Gary, Dan, Mike, Joe and Chris Dimmock.
Just as we were all meeting up and gathering our thoughts the skies darkened and the heavens opened, we quickly scrambled and dispersed in different directions. Some legged it to the pub and others to their cars with little ones but some remained on the course running through lashing rain, lightning and thunder…. Sir Fred Watt you are a hero to us all, well done.
Great day finished off with beers and a curry, see you at the next one.