My (First) Marathon Experience
By Kate Johnson
Completing a marathon has been on my bucket list for as long as I can remember, I have watched the London Marathon year after year and watched people of all ages, shapes and sizes complete the iconic course. I decided last year that 2014 would be my Marathon year and waited patiently after entering the London Marathon Ballot. After the 'We're sorry' letter from London landed on the doormat I was wondering if 2014 would be my year at all.
Fast forward to May 5th 2014. It was a cool morning, I had a decent night's sleep and I had everything I needed all tried and tested. Running a Marathon, that's just putting one foot in front of another for 6 hours? How hard can it be, I told myself. I had arranged to go to the course with my twitter running buddy Frank, which mean if I bottled it, I would have a really long walk home.
We arrived and wandered around the stadium, where I encountered my first problem, all my shotblocks had fallen out of my belt. Cue panic. I managed to find one pack on the grass and I had a spare in my bag, so that issue was solved. Little did I know that 4 hours later I would be cursing the shotblocks. I went to sit by the start line and try to mentally prepare for what I now decided was a mammoth task and one I had most likely taken on way too soon after taking up running. I was comforted by the sight of so many familiar, happy faces, Mark Haynes, Helen Crossland, Rod Freeman – fresh from his 100 mile jaunt – many DLRR and Leighton Fun Runners and thankfully my friend Bexx who is nothing but a super hero and is completing 12 marathons in 12 months for Cancer Research. After a quick pep talk from all of the above we were off.
The start was really wide, always a bonus with a lot of runners competing. A really good decision to close some of the roads in MK. The first 5 miles went by quickly, I kept to an 11 min mile pace as planned and soaked up the atmosphere around the city centre. It was great to see Tom May going in the opposite direction at mile 5 and some big smiles from Chris Williams and the Inchley Clan towards mile 6. All was going well and I was enjoying the route and the amazing support. Team George had the biggest and best support along the course and I loved the signs that were out. Notable ones were ' Laura, I love you, I have beer and Chinese at the end.' 'You will never sign up for anything again when drunk, will you, Amy' ' Are you regretting this yet, Emma'
I scanned the faces of the supporters for people that I knew and saw Andy at Mile nine and just after that my Dad, who clearly didn't understand my instructions of 'come to the second half, after mile 13' so I stopped for the fastest hug in history before carrying on back the way I had come up to the split point for the half marathon.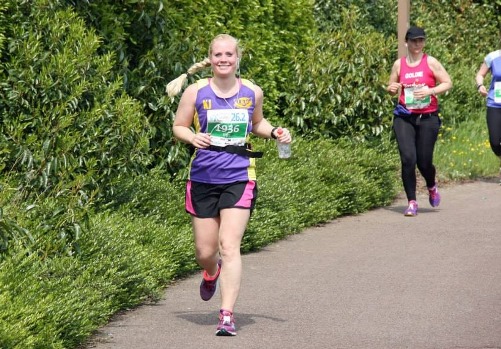 At the split point the marathon route went off on to the redways around MK. I had taken on a couple of shotblocks and some Lucozade and none of it was sitting right in my stomach and my knee was starting to ache. Luckily I rounded a corner at mile 12 and my mum was there with Andrew both taking photos like I was Mo Farah and they were members of the Japanese paparazzi. Seeing them made me feel a little better and as I went round the next corner Dad was there again and jogged along side me for a bit. 'Dad, I have a twangle in my knee' ' Kate, what is a twangle?' 'I don't know' was the conversation between us before he let me run on. I hit Mile 13 and my left knee was aching and my stomach was in knots. Mentally I was starting to question my own sanity. I had run 13 miles lots of times and run 20 miles twice so why was this taking it's toll so badly?
Nikki Elvin was at 14 with the massive Oakley stick she had saved for me and oh boy was I pleased to see her.
By Mile 15 I was in a mess, I hadn't seen anyone familiar for two miles and I needed to throw up, there was no choice. After I quick vomiting session just off the redway and cursing the shotblocks and Lucozade that had worked so well in training. I was ready to go again, and off I went to find Richard Inchley round the corner on his bike. Seeing a familiar face was what I needed so I powered on to mile 16. Mile 16 was bad, car crash bad. I reached for my I-Phone thinking surely this has to have some use for Marathon runners and made a phone call. 'I can't do this' I sobbed into the phone the very calm reply was 'yes you can, we are at Mile 18 and you will be fine'
I hung up the phone and trotted round Willen Lake where I could hear singing and a familiar voice, it was Bexx and S Club 7. If you are not a runner no one can explain what familiar faces or voices can do for you on a marathon route. They are more powerful than any nutrition or play list. Bexx lifted my sprits and I felt hugely guilty for my tearful phone call. Bexx was doing this 12 times in 12 months. I only had to do it once. I told my self to suck up the knee pain and just get on with it. As if by magic my Dad appeared again and said some useful helpful words before disappearing again. I shuffled on I am sure I was shuffling by this point but the important thing was that I was still moving. I hit 17.8 and Dad popped up again 'Ten miles to go' he shouted gleefully whilst running along side me. 'It can't be ten miles, if I am at 17? Sod off and learn to count' was my response to him.
With the promise of a sighting at Mile 18 of mum and Andrew I shuffled on, The Killers kept me company, (never underestimate the power of a play list), 18 came and went and so did 18.5 and Mum and Andrew were at 18.89 which as any runner knows this is Mile 19. The need for all the photos was wearing thin and I was fed up, tired and still 7 miles from the finish. I hit 20 miles at 4hours and 4 mins only four mins slower than Oakley which surprised me. I was hating my Garmin at this point I was tempted to chuck it in a bush as it was just telling me how far away the end was, rather than being any use what so ever.
Nikki and Glen were somewhere between Mile 20 and 22, I can't be sure where as I am pretty sure I had started to hallucinate. But the thought that Glen would soon be running a half dressed as a hippo made me smile. The miles were going backwards and there was limited amount of support on the redways, but the support that was there was awesome. Elliot was at 22 (or 23) with two people who made me feel like a rock star, screaming chanting and willing me to get up what seemed like an Everest sized hill. Milton Keynes is not flat, do not be fooled! The 24 mile marker was in sight and I knew I could finish, the time no longer mattered, it was now a battle of wits between my body and my mind.
I stole some DLRR flapjacks at mile 24 and found Tom May somewhere at Mile 25 'I will make it, I promise.' I squealed at Tom. Gary Stratford popped up and I marathon shuffled towards the finish. I have never been more pleased to see the MK Dons Stadium in my life. Tom encouraged me with some run – walk techniques ( it was a shuffle – walk, I won't deny it.) We three made it past McDonalds and KFC (who puts McDonalds and KFC at the end of a marathon route?) Tom convinced me that I had to run in the stadium and that it was my moment of glory. (it wasn't glorious, not one bit!) I trotted/hobbled/ran/shuffled my way round the stadium, to the finish line. I have never been so pleased to stop running/cross a finish line. After many cuddles, too many photos and a few tears I was the proud owner of a spangly marathon medal. 5:42:57 was not going to break any records, but for me it was a personal triumph that can never be taken away.
It wasn't pretty, it wasn't fast but it was the first one and it was done. Every supporter makes a difference to a marathon runner and the two women on the bikes doing loop backs keeping an eye on their father, I am forever in your debt. To Steve from Harrys Rainbows it was a pleasure to keep your company and your wife and daughter Hannah who walked with you for 12 miles I salute you all. I hope that one day I can return the favour to everyone who came out and supported me, who waited and cheered and screamed, told me it would soon be over and it would all be worth it.
Yes, it was awful, at least ten miles of it I was thinking I need to be admitted to the nearest mental health unit, my knee seized up so much I couldn't move once I stopped and I screamed in pain trying to move for at least 24 hours after finishing, but it was worth every step, every painful moment, every training run, every tear to be able to say 'I took on a marathon and I won'
So, when is the next one?
Oh wait, I know that………. Paris 2015.