A Tale of Three Halves
White horses, shell suits and High-fiving Henry VIII
James Bell, Caroline Mann, Laura Brine & Sam Dear
The 29th March will be remembered by many racing that day as the windiest for some while. Over most of the southern part of the UK, gusts reached an energy-sapping 40 mph. Added to the atrocious weather was the early start due to British Summer Time.
In Oxfordshire James Bell was competing in the White Horse Half Marathon, a race which he'd done previously. James takes up the story from here:
My training had been going well and the indications were that I was on form to come close to burying my PB of 1:23. Going back to my records I knew that I had to time the first 10k precisely because in my last attempt I came through too fast and blew up at the 10 mile mark. I tried to emulate the 1:23 splits in which I achieved a 10k of 39:01 and a 10 mile time of 01:03.19.
Things were going well until I reached the 5 mile point when the wind had lifted a 12ft trampoline onto the course, blocking the route. As I arrived, the owners were in their pyjamas grappling with it. I dodged it and hit the 10k at 39.10. Moments later I turned left on the course straight into a headwind and the running pack began to fall apart. Most stooped to avoid extra drag and others looked for cover behind the pack. I did the same but they were running too slowly so I pressed on. My splits dived as I ran to save my PB attempt. By the 10th mile I hit an all-time low of 7.04 min mile as gusts punished us all and I reached the 10 mile point by 01:05.31 – two minutes adrift. By the same token I appeared to have overtaken quite a few runners in the last 4 windy miles.
I finished the half, knackered in 1:26:08 but in the best position: 25th/471 compared to previous rankings of 47th/422 and 42nd/433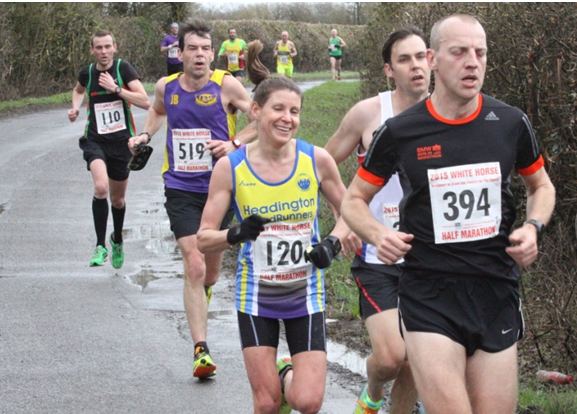 Caroline Mann and Laura Brine were both hunting PBs in the picturesque setting of Hampton Court Palace:
Hampton Court Palace Half (Caroline)
I'll be honest with you; the main reason I was doing the Hampton Court half marathon was for the medal. I had my eye on it since last year, along with the Womble medal from Wimbledon Common last weekend. Before last weekend's race I'd never run an official half marathon before; but have run that distance several times on my own.
I didn't have any tactics other than to run faster when I could and no walking. I'd read that it was a flat course so was hoping to beat my previous times for that distance. Hampton Court was wet and windy, but thankfully no heavy rain as was forecast. I liked that it was a 2 lap route as I knew when I saw the 7 flag that I was on the home straight from there. There were some inclines, some gravel, 3 running Knights, Henry VIII watching the race start and finish and the rock choir to sing me in. As some of you know I'm a relative newbie to running so I was pleased to beat my time from last weekend by a few minutes even if it was still 2:21 (by my device). Wimbledon was hillier though if I'm honest. I'm on the lookout for more funky medals and hoping that LBAC will help me achieve more personal bests. Thank you for your encouragement so far.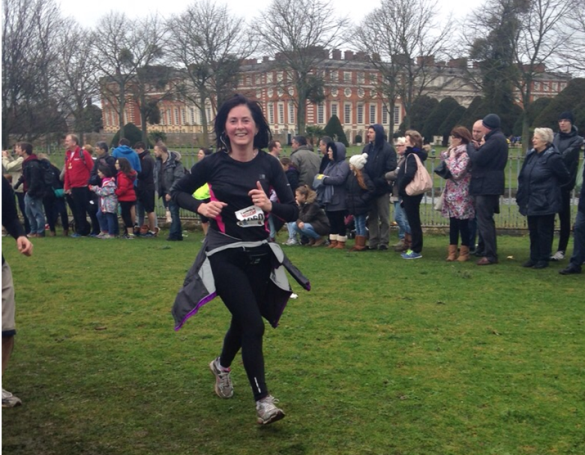 Hampton Court Palace Half (Laura)
I love running races in London as it's a great excuse to get to know the finest city in the world and because most of them are flat (except Ealing half – that was a shocker!) and the Hampton Court Palace promised to be just that.
In the few days before I didn't even consider bad weather, as it had been a glorious week leading up to it, but the weather forecast predicted winds and rain. Brilliant. But, hey, you can only get so wet…right?
I had run Coventry half a few weeks before, and despite the 8 mile uphill, had got a PB at 1.30.12 (still not over those 13 seconds! *shakes fist*) and Hampton Court Palace, despite being in its first year, had said it was a PB course so I thought I could hit that sought after sub 1.30 (who decides that anyway?)
On the day, it was drizzly and windy but I was still hopeful. We decided to drive there which was really easy and loads of parking nearby. The bag drop was good and the setting was beautiful. I was running with a friend who was also aiming for a PB (she got hers. Totally not bitter!) and I was really looking forward to the course. I'm not a massive fan of lap courses but the laps were slightly different and you got to run around the grounds of the palace so was all set to be a great run.
The start was ok, no pacers and no pen starts and nothing majorly glamorous, but you got to start on the iconic driveway of the palace so was nice.
Then it all went a bit wrong. I'll try not to be too negative. You went out of the ground and along the Thames, passing the first three miles. This was nice. A good surface to run on and I sat around a 6.40min mile pace here, feeling good. Then you came off the path, up a hill. Hill? It's cool… it's just one hill, and then into the grounds of the palace. Up a long, and steady incline (woah, woah, woah… where was the flat course?) This would be fine without the strong headwind and face whipping rain. I knew at this point the PB was a distant dream, I was now sitting around 7.03min mile. But, I felt like roadrunner; legs turning but not really getting anywhere. This path went on for a mile or so with a water station at mile 3.5.
Then cue side wind. Ooh, my fave! … followed by another water station at mile 4? Obviously, no one took water at this point. Who would? (This is where we say goodbye to the water stations for sometime) We then came past the start line, high-fiving Henry VIII at mile 5 (yep, that cool) before hitting a shingle path for a mile, zigzagging across the back of the palace; A little energy zapping, before picking up the loop again onto the Thames path. I liked the Thames path. It was a sandy surface that felt good underfoot plus no wind.
Then back up THAT hill, in THAT wind and, right on cue, more rain! And no water… we were around mile 9 by this point. I'm not a massive drinker in races but now all I could think about was water. Close to visioning an oasis and crawling, I took a gel which gave me horrendous indigestion and the need for water was pretty bad. The water station finally came at Mile 10.5!
We now hit the part of the course that was grass. After an XC season I like running on grass. Just not at mile 11 of a race. Up the side of a lake that seemed to take forever, before back down the other side and towards the palace. At this point I thought my legs were going to go. Never really experienced that in a half before and I had to have a word with myself. I'm pretty sure I shouted to myself "pick it up, Brine" in the last 400m before crossing the line in 1.30.28. Only 16 secs behind my PB but so glad it was over. The medal was incredible; especially if you like race bling, and there was some fruit and flapjack at the finish and a t shirt. No water though! Seriously? Do they not like water?
All in all a good race, think it's much more for a slower paced run where you can take in the scenery and run for fun. I will definitely consider doing that route on a LSR when training for Berlin/ New York in autumn though.
Sorry, no photos… not pretty!
And finally, a little bit further north was Sam Dear, running the Liverpool Half:
Liverpool Half
For once, it seems like heading to the North West of England meant that I avoided the worst of the wind as that passed through Merseyside in the early hours of Sunday morning. However, that didn't stop the rain falling from the grim, grey and unrelenting dreary skies with the deluge (possibly including some sleet) not stopping once between the wake up time of 7am and the post-run midday beer.
This was a different kind of race for me as I had promised my good friend Rosie that I would pace her round to achieve a half marathon PB. Rosie has done 4 marathons and so knows far more than me about long distance running, but being a distance monster she's never properly worked on her speed. This time around she had been doing some hill training and a few intervals and was dead up for it.
The race starts and finishes in and amongst the docks of Liverpool and outside the famous Liver buildings. From there it heads up the one real hill towards the dominating Liverpool Cathedral and heads east to Sefton Park. A few loops around here are followed by heading back towards the Mersey (through a very annoying underpass bottleneck) with a 4 mile stretch along the promenade back towards the Liver Buildings.
Knowing that Rosie is of the competitive sort and that the last 5miles are all flat/downhill I decided to go out a little ahead of the target pace thinking that she would just be able to hang in there if things started going badly towards the end. This seemed to work as despite the odd comment from her saying she wouldn't be able to go any faster than this she seemed very happy. Especially when I kept reminding her she didn't need to go faster!
On a nicer day the parks and streets would have been teeming with happy Scousers willing on the runners with cries of, "Go 'ead, girl/la!" but today was not a nice day. Not at all. The only sound was people's trainers hitting the sopping wet floor. People weren't even in the mood to chat to each other as they plodded through puddle after puddle. This was just a day to get through it and get home. (Kudos to the drenched lone man with tubs of jelly babies yelling encouragement at every single runner after 10 miles!!)
Having got on to the promenade, which feels like it should be the home straight, but is in fact still a good third of the race, Rosie had started to tire but had still only dropped a little below target pace. It was now just a job of hanging in there as best as she could. She still looked strong though so I thought it was probably another case of mind over matter. Unfortunately it was this point that having run for a few miles through some torrential rain, we were starting to lose feeling in our hands, fingers, toes, face etc. Unable to open her 9 mile energy gel we pressed on with sheer determination.
By this time I knew the PB was in the bag unless we stopped completely so I stuck next to her attempting some encouraging words (I hope!). Unfortunately within the last mile of the run, the race planners felt like it was an ideal place for some cobbles. Definitely not the perfect surface as all runners tried to fit in a narrow cobble-free section slowing us all down. But suddenly, back on to the tarmac and round the corner to the finish in 1:48:50, beating her previous PB by a good few minutes. Like a true pacer I made sure we finished with an identical time! (well I couldn't let her beat me!)