Has Spring Sprung?
There were daffodils aplenty on the traditional Boxing day route for the final club championship race of the year on Easter Monday and a reasonable turn-out of sixteen lithe individuals were on the start line wondering what Dave had predicted their time would be for the 5.7(ish) miles.
This event has been run on this route since before the bypass was constructed, which may answer the question as to why we go that way. Although the start and finish lines have been moved around a little it is basically the same course as it's always been so times are roughly comparable year to year.
Unlike the Stag, this is a "blind handicap" so no-one knows what their predicted time is until results are announced so it's effectively run as a straight race. The challenge is too convince the handicapper that you are rubbish while having been doing loads of sneaky training!
The run started this year with Amy Inchley taking the lead round the first corner, but spectators weren't too sure when that changed as fairly quickly Jordan Clay was spotted out at the front chased by the rare sighting of Tom Inchley who is now focusing on his upcoming relay legs after a fairly slack winter.
It was great to have nearly 50% of the field being female with a healthy selection being new to the club and embracing the random events we have through the year. Of these, Laura Brine and Jo Sharples had settled in just of the leaders and were clearly looking for a good time. Having done her first speed session the previous Monday, Katie Stanton was keeping Liz company.
As the race unfolded there were a few changes of position as James Bell went past Tom while trying to keep Jordan in sight and Jane Sauer split the two old boys of Fred and Pat despite carrying a little "extra weight"! The perfect spring weather meant that everyone was happy to shout all the other finishers in and then stay outside at LTFC for the brief presentation ceremony.
As is traditional, results were read out in full and in reverse order but there were only four that managed to beat Dave's predicted times. To be fair Jordan was spot on with his 31:55 but underneath his time in fourth was Pat Neilan, who's 47:07 was 3 seconds under. In running 37:38 Laura Brine was 7 seconds under her handicap despite a twenty miler the previous day. The runner up after some mixed support from Pete Mackrell (he insisted on talking to her, but did probably help with a little shelter) was Jo Sharples who was 14 seconds ahead of her time.
However, our winner of the Langmay Christmas Trophy for this season, in beating his handicap by 28 seconds was LBAC's very own captain, James Bell. I am sure that James will put all of his good end of season form down to Monday night training so there's an incentive for you!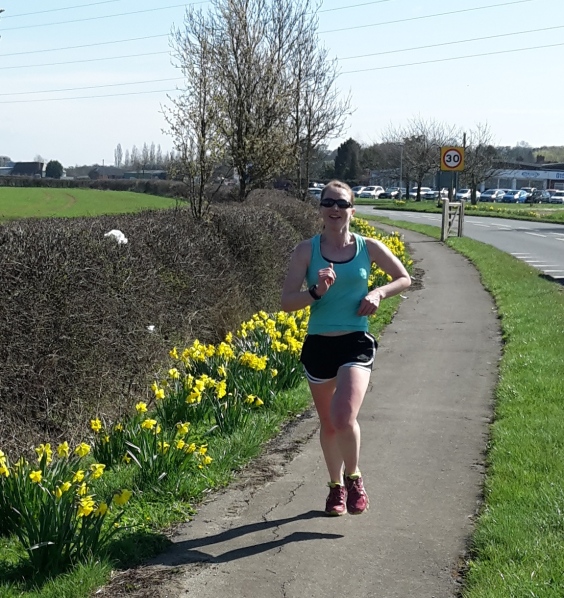 | | | | | |
| --- | --- | --- | --- | --- |
| Position | Name |   Time |   Prediction | Variance |
|  1 | James Bell | 35:12 | 35:40 | -0:28 |
|  2 | Jo Sharples | 39:16 | 39:30 | -0:14 |
|  3 | Laura Brine | 37:38 | 37:45 | -0:07 |
|  4 | Pat Neilan | 47:07 | 47:10 | -0:03 |
|  5 | Jordan Clay | 31:55 | 31:55 | 0:00 |
|  6 | Tom Inchley | 35:53 | 35:50 | 0:03 |
|  7 | Nick Clay | 36:36 | 36:25 | 0:11 |
|  8 | Jane Sauer | 44:50 | 44:30 | 0:20 |
|  9 | Liz Miller | 55:40 | 55:05 | 0:25 |
|  10 | Lynn Boddy | 42:48 | 42:05 | 0:43 |
|  11 | Amy Inchley | 39:54 | 39:10 | 0:44 |
|  12 | Fiona Towell | 48:10 | 46:45 | 1:25 |
|  13 | Gary Stratford | 38:43 | 37:10 | 1:33 |
|  14 | Fred Watt | 44:01 | 42:25 | 1:36 |
|  15 | Katie Stanton | 55:35 | 51:45 | 3:50 |
|  16 | Pete Mackrell | 39:16 | 32:55 | 6:21 |