Secret Marathon? Pisa cake for Pete
Pisa Marathon
17th December
by Pete Mackrell
Every year since 2009 I have done at least one marathon each year. However 2017 had been different, I'd been injured for 7 months and hadn't restarted light running until May. I'd missed the spring marathons and there was no way I was going to take my place at Berlin in September off minimal training and risk further injury. I had pretty much given up on 2017. In October I decided that I needed something to focus on during the final few months of 2017, so I decided to enter a marathon, as you do.
Pisa was the obvious choice: it's in mid-December so it gave me enough time to train whilst still being in 2017 to keep my run going. There are cheap direct flights on Ryanair and it's somewhere I was keen to visit anyway. Having signed up for it I then took the decision to keep it quiet. I knew I wouldn't get near my PB and entering was more about having fun, regaining focus and giving me a good base going into 2018. I didn't want people tracking my training, asking how it was going, what I was aiming for, etc. No pressure, just enjoy it.
The trip almost didn't happen. I was due to fly out on the Friday evening but I received an email 24 hours before saying my flight had been cancelled due to an air traffic control strike at Pisa. I spent Thursday evening working out how else to get there: the only viable option was to fly first thing on Friday to Bologna, via Cologne, and then get two trains to Pisa. It turned a two hour journey into an eight hour one. It also meant I'd have to miss work on Friday but thankfully my understanding boss said go for it so the marathon was back on. Even then the drama was not over, my first flight to Cologne was delayed by an hour and I was starting to think I'd miss the connection, but thankfully an impromptu interval session through the airport terminal was avoided because the second flight was also delayed.
Onto the race itself. The conditions on the day were absolutely perfect: sunny but cold with no wind. The course is completely flat with lots of long straight roads and very few turns. Most of the route is away from the city and it's definitely the most scenic and calming marathon I've run. There are stretches when you can see the snow-capped Apennine Mountains in the distance which were genuinely stunning and you feel like you're running through a picture postcard.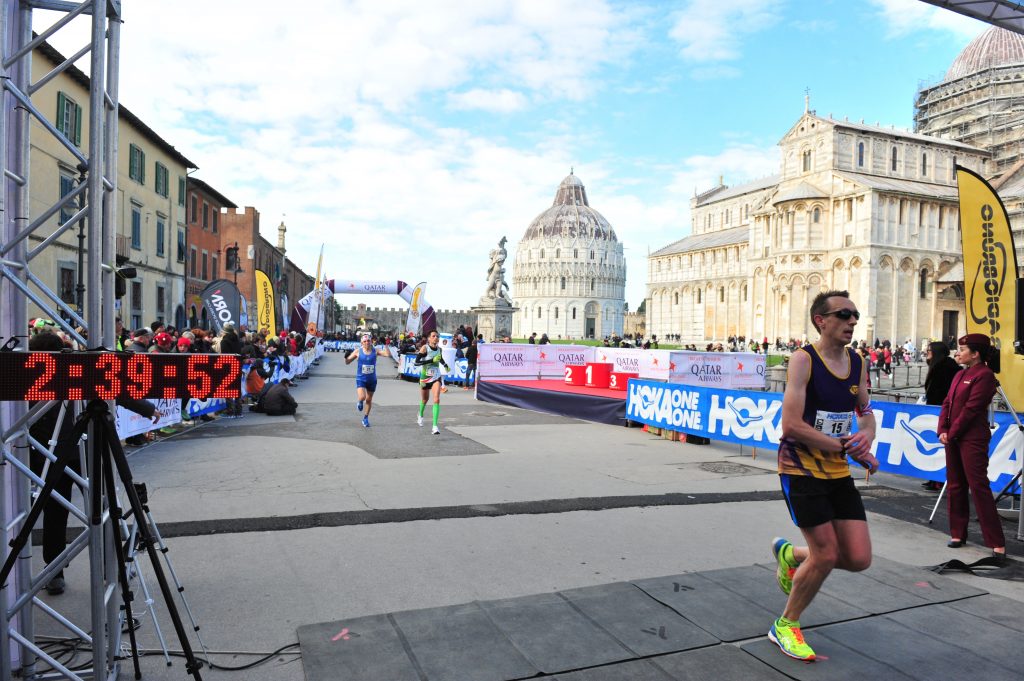 My training had gone ok, well enough to know I could start at 6:00/mi pace and hang on for as long as possible. This I did until around mile 20 when I started to slip, but I was able to dig in pretty well and finish in 2:39:50. I was really pleased to run sub-2:40 again, 14 months after Chicago, having not run for half the time in between. It's given me lots of confidence going into 2018 where I hope to get back near my best at Manchester in April.
I really enjoyed the whole trip, you can explore Pisa and see all the sights in a weekend so it's perfect for a marathon trip. The food is good and finding restaurants serving pasta isn't a problem! The course is really quick so good times should be possible. The only downside is the race organisation is a bit amateur and it doesn't feel like a big city marathon, with no support on much of the course. So maybe it's not for everybody, but it's worth considering if you want a marathon late in the year.