Jordan Finds Great Form
Back in the dim of distant past of the 2008/09 season, our team for the Slough December fixture consisted of six men (3 Vets), one junior and one senior (V55) lady. On the day we finished 7th in division 2, which was where we finished overall that season.
Some of the members of that team made the trip this weekend down to Slough and came away with a slightly different experience. Uncle Pete Watkins made one of his last CCCL appearances that day and earned a crucial nine points for the club, but on this occasion was able to put his full effort into being lead support on the day along with senior Inchley.
The one junior from that day was an U13 called Jordan Clay who finished 9th out of 12 in the division 2 part of the race. Five years on and Jordan has probably just put in his best ever performance in the Chiltern League.
By the time juniors get to U17 level, the standard is extremely high as generally it is the better and more committed ones who have stuck it out despite the distractions of the age. This year Jordan flew round the course to finish 7th in the race out of 46 very good lads. His previous best result this season was 12th so this really was an excellent run. Having been the solo representative at last week's county champs in the U17's Charlie Mead again ran strongly to score vital points for the club in a race that is often lacking support as it is sandwiched between the senior women and men.
The best team result of the day came in the U11 boys event, where the team of Ewan (43rd) & Harry Bell (52nd), Max Rose (48th) and Owen Lindars (20th) were led home by Dominic Grimshaw (9th). Their fantastic runs meant a 4th place position for the team, beating the likes of St Alban's, MK, Bedford and Aylesbury.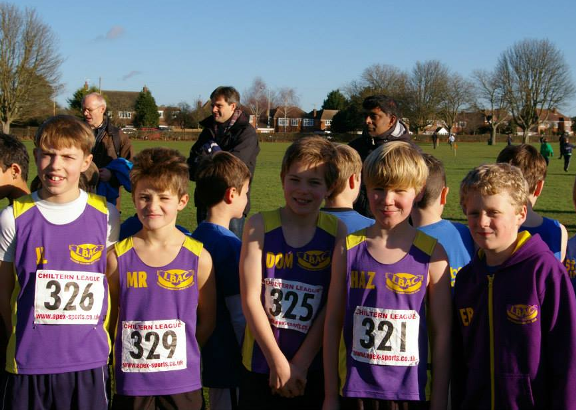 In the U15 girls our two ever-presents for the season both had strong performances. Sarah Plummer was back to her form from the first fixture at Watford by finishing 23rd, while Megan Westrope offered good support in 48th.
There were three U13 girls donning the purple and yellow today as well as Julia Bell in the U11's who finished a very creditable 66th. Ellie Rabbits again led home the U13 team of Chloe May and McKenna Keefe.
Remarkably, the weather stayed as a lovely sunny January day throughout the whole fixture and so both senior races benefitted from a bit of sun on the back. Throughout the season, the senior women have struggled a little for numbers, but those that have turned out have been very committed to the cause, with two of the five runners in Slough competing in their first ever cross-country season and have run 7 out of eight races between them.
Having come back from the birth of Erin, Amy Inchley is now running better than she has ever run and continued her excellent form with her best ever CCCL result in 25th place. Despite a long list of injuries, Jane Sauer has performed consistently across the season and has now finished in the 40's in all of her three races while Lynn Boddy has been very similar just a little behind.
Our two newbies of Katie Haylock and Kate Johnson are proving vital members of the team with Katie continuing her ever present record this season with a fine 66th, while Kate equalled her highest position in 98th.
The senior men had another fantastic turnout, with 18 chaps making the trip plus a couple of supporters. The final finisher for us was Mark Haynes in 196th place. Mark was running with nice selection of broken ribs, left over from the last CCCL at MK and yet what should be noted is that he finished ahead of the final scorers for both Luton and Tring which means he has taken crucial points away from them. When you extend that through the all of our runners and across all of the other clubs, this is why having a big turn-out really helps.
At the other end of things we don't have anyone really challenging at the front – although Pete M is working on it –, but what we do have is a great team. We were the 9th club to get our first finisher over the line, but amazingly we were second to close our team of ten. I cannot imagine that we have ever been close to doing that before. The gap between Andy as second person back and James as tenth was just 2 minutes and 21 seconds, which is exceptional packing and we were one of only three clubs to close in under 100.
Within the team were some notable performances by individuals clearly spurred on by our fantastic collection of junior supporters! Ian Grimshaw is getting back to his best with his highest placing so far this season. Tim Inchley had his highest placing since anyone can remember, James Bell continued his steady improvement while Nick Clay, Mike Bryant and Fred Watt all had their highest places of the year. This all resulted in a tremendous sixth place for the team and somewhat different to five years ago!
After four fixtures we have now moved up one position in the overall table to tenth with one fixture left, so wherever it ends up being, let's get everyone out again.
For those of you who are into your history you can see the 2008/09 results here; http://www.chilternccl.co.uk/cl200823c.htm and the 2013/14 ones here just for our club are here; http://www.chilternccl.co.uk/cl201314c.htm#LEIGHTON B