A Grand Finale in Nottingham
The traditional cross-country season end event for club runners in England is the National Championships. These move around the country between the North, Midlands and South regions and last weekend took place at Wollaton Park in Nottingham.
Last year, the event in Sunderland was snow covered and in 2011 the Hampstead Heath event was the usual battle around muddy hills, so to arrive in the midlands and be greeted by firm parkland and some spring-like sunshine was a delight for just about everyone concerned.
The course itself provided some great variation, with the now customary mud limited to just a few hundred metres, rather than the whole route. There was tufty parkland, firm grassy areas, a few testing hills, but nothing horrendous and even some strategically placed logs to hurdle. For those of us that thrive on energy sapping bogs, it wasn't ideal, but it did make a nice change!
Twenty club members were up at the event with nineteen running and Richard their in his official capacity as ECCA treasurer and babysitter!
Unfortunately the day didn't start ideally as Ellie Rabbitts was unable to finish the course in the U13 girls. This was a great shame and it left Sadie Towell and Chloe May as the only representatives to battle round with the huge number of fellow competitors to come home in 415th and 419th respectively in their first ever National.
Next out of the blocks for us were Jordan and Charlie in the U17's. Having done all the previous cross-countries this year as well as the various schools events, and with the inter-counties still to come, their spikes have had a serious working over this season. With nearly 300 talented lads running Jordan was hoping to get into the top 120 and was delighted to finish the 4 mile course in 99th. Charlie likewise ran strongly to close out his club season in 225th.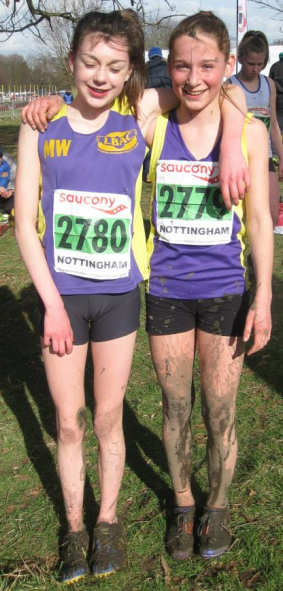 Our two hardcore U15 girls who have run every race this season also took on over 350 of the country's finest over two short laps of the site. When they emerged at the end you would think that they had done different courses though as Sarah Plummer was covered in watery mud after a strong run to finish 208th, while Megan Westrope clearly floated over the surface in 290th. Both of these girls have improved hugely this year and are competing a year young so we have high hopes for them in 2014/15 when they will be top of their age group.
It can be tricky getting people to commit to the National Championships as the name itself sounds a little intimidating and there is often a bit of travel involved, but the reality is that almost every club has the same diversity of runners that we have and to say that you have done it is kudos in itself. It was particularly unusual therefore for Helen Crossland to take this on as her first cross-country of the season, but great to see.
For the first time ever there were over 700 women taking part in the event and Helen seemed to smile all the way around the five mile race even after her speed training the night before. Fiona Towell is challenging the mantles of Chris Norman and Tom May for the club's most injured person but that never seems to stop her and she even donned the sunglasses for her run around the challenging route and was in front of over 100 other athletes. The third and final member of our ladies team on the day was Amy Inchley, who looked very strong in completing the course in just over 34 minutes to claim 150th place in the field.
On a day when participation records were being broken all over the place it was the men's start that provided the most spectacular start. It was the biggest field since 1999 in Newark with 1647 finishers. You can see a video of it here. Somewhere in the midst of it all LBAC had nine hardy competitors. Within the National there are two team competitions for the men's event with a team of six and one of nine so we were able to complete both. Our team of six even made the top half of the field in 61st place out of 127 clubs, while our team of nine was a very respectable 37th out of 56.
It's pretty difficult to say who had a good or a bad run in a field of 1657 over 7.3 off-road miles, however it's probably appropriate to point out that Fred would be one of very few V60's competing in the race and yet still managed to beat over 100 people. Ahead of Fred Chris Dimmock completed his full set of eight cross-countries for the club this winter which no-one managed last year. Nick Clay was a little disappointed to be outside the first 1000, but such is the nature of the event, he only needed to be 15 seconds quicker to gain the 18 places that would have made it!
The team was once again led home by Pete Mackrell who by his own admission was still feeling the affects of his 1:58 twenty miler from the previous Sunday. However, some support from the side of the course meant that he did enough to keep Andy Inchley at bay by a few seconds as they each finished four places either side of 400th.
Chris Norman and Tom May both disproved my point earlier about being injury prone as they completed their 5th and 6th cross-countries of the season to come home in 729th and 942nd respectively. They were split though by Elliot Hind who was just twenty seconds behind Chris and Gary Stratford, who is another one of the season's ever-presents and is just getting himself into his annual good form for the Spring marathon season.
So all-in-all it was a good turn-out by the club on a glorious day in the East Midlands. There are a few who still have representative cross-countries left this season, but for the rest the spikes can be cleaned (maybe!) and put in the back of the cupboard until it all kicks off again in October.