A Fantastic Birthday Present
Cader Idris advertises itself as one of the toughest fell races in Wales. Starting in the town of Dolgellau at sea level, the race climbs almost 915m (3000ft in old money) to the summit of Pen y Gader. It claims to be 10.5 miles in length but locals believe it to be more like 11. To the fell runner, the race can be described as AM, ER, PM, LK, NS (it's steep, experience is required, the course is partially marked, local knowledge is an advantage and navigational skills may be required). AM (A, meaning that the climb will be at least 50 metres per km, M, indicating a medium length race between 10-20km) were the only letters I was interested in and these were used erroneously to gauge how long I'd be doing the race. I found myself doing it in the first place as I'd done one AM race before and needed two more to qualify for the Ben Nevis race in 2015. But as I found out, not all AM races are cut from the same cloth.
Wikipedia is a useful portal for information on which to base a poor estimate. Snowdon, the race I'd done previously, is famous for being the highest mountain in Wales – school boy stuff. Cader Idris, the great pretender, is some way down the list in 9th – it's not even on the Welsh 1000s. How tough could this be? I wrongly assumed that I'd done the hard one so surely a race of about the same length should take less time. In my head, this could be all done and dusted in an hour and a half.
There's some funny stuff that happens in car parks. Ignoring the fact that in Dolgellau's offering, it was not only expensive to park (£7.50) and pee (20p), it was the location for a chance meeting with three of LBAC's stalwart fell runners. Regulars on the North Wales Series that this year include races such as Cwm Pennant, Arenig Fawr and the tough Y Moelwyn, the brothers David and Steven Marham and their friend Mike Kelly command respect in the Welsh fell running scene. Even though I was in conversation with them for only a short while, a fair number of fellow athletes popped over to say hello. To this end, it is slightly amusing that LBAC has a good reputation for fell running, even though the nearest mountain is a couple of hours drive away.
And so we came to that bit where we all exchange experiences on the mountains. My bit took a couple of seconds, but Mike recounted his 20 years on the fells when he started racing up Snowdon in the 90s. David added more and I began to feel quite the rookie racer I was. The three of them are all good runners, but when Mike told me he'd once made the Snowdon summit, a distance of 5 miles, in 52 minutes I realised that the company I was currently keeping was erring on the side of elite.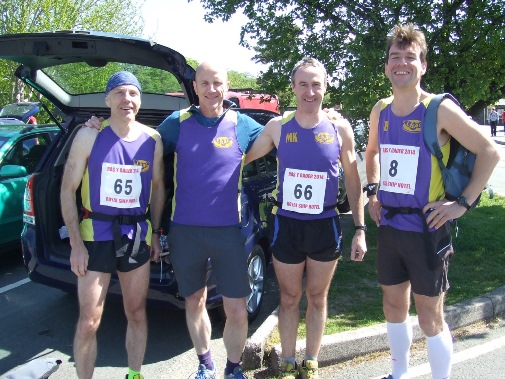 In the two fell races I'd done previously, I went as hard as I could up as I did down. That was because I was assured that my chauffeur, nurse and spiritual guide was there at the finish to clear up the mess. At Cader, the vacancy was left open and I had to make sure I didn't end up in St John ambulance again as it was a long drive home on my own. So my strategy was just to enjoy it and this I did as I took photos, somewhat foolishly, whilst doing the race.
I found myself at the start line having a kit check like all the other runners who had to demonstrate that they had full body cover, compass, map and other stuff that I didn't know how to use but must have about my person. It was at this moment that I struck up another conversation with David and Mike. "How long was this going to take, given I can do Snowdon in little over an hour and a half" I asked. "Well" came the reply, "it's harder because the terrain is constantly changing, so I would think around the two hour mark". For anyone who knows me, I tend to take all the fun out of a race by over-preparing, studying this, that and the other. I can genuinely state that I had barely given Cader a thought as I was pre-occupied with 5k training.
Two hours was never on my running radar. I last ran for two hours in October. Laughably, my long runs had been 8 miles or so since then, in part because I was instead enjoying trashing around Leighton Buzzard like a loon doing speed training on a Monday night. Rather than feeling unprepared, I was feeling rather excited to find out how far 5k training could take me.
The race briefing was finished and before the gun went off, the LBAC elite gave me some really good advice. "Go slow, really slow at the start". I started with the huffers and puffers but kept a constant pace as we climbed a steep road that would take us to the start of the trail that began the off road experience in a little less than 2 miles up the road. I passed Mike on this section who was only doing his sixth run since Christmas because of injury. He looked strong but was rightly taking it pretty easy. I made no plans to catch David but instead concentrated on just keeping the same pace through the climb, taking the occasional photo as I went. This strategy paid off, as I passed many a runner burnt out by the climb towards the track. I nestled in with a group of runners as we ran entered the forest along the edge of Gwernan lake. The terrain changed and underfoot it became tough due to tree routes bursting out of the soil as if they had evolved for the sole purpose of making the Cader race more of a challenge. Over stone walls and through sodden grassland we ran and then there it was – Cader revealed itself.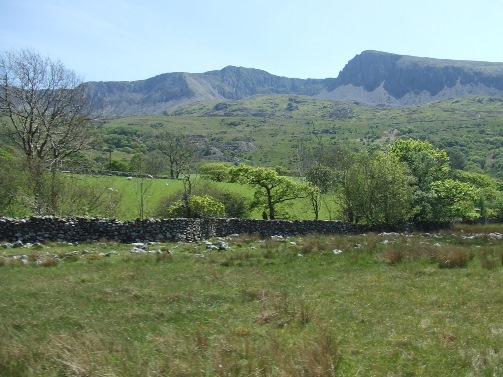 The terrain changed again, but I felt strong and kept my pace, chipping off runners here and there. I didn't feel like I was racing, which made the whole experience more enjoyable. Up we went and with it the mountain experience began. Ahead, I saw a stream of runners, some power walking others visibly pushing against the altitude as they ran. A few folk were cheering us on whilst sensibly enjoying a picnic in the sun. David was ahead and I passed him exchanging a few words and a nod. Steps appeared up the pony path which forced many to power walk as the burn set in. The secret of fell running is not in the legs but for me, the race begins and ends in the head. Unlike road running, the sense of achievement at reaching the summit is felt around half way into the race. Added to the fact that you will almost certainly see the leading pack piling down the mountain at breath-taking speed, both combine to give you a huge buzz. Road running does not offer that experience and for these reasons I am a convert.
David and I made it to the summit in much the same time; David having pushed hard towards me to close the gap as I made the turn on the cairn of Pen y Gader. Mike was perhaps 5 minutes behind and all of us seemed to be enjoying ourselves. I signalled to David that I was not racing any further and let him go as he race a great speed down the mountain. Still, I had to really concentrate not to fall.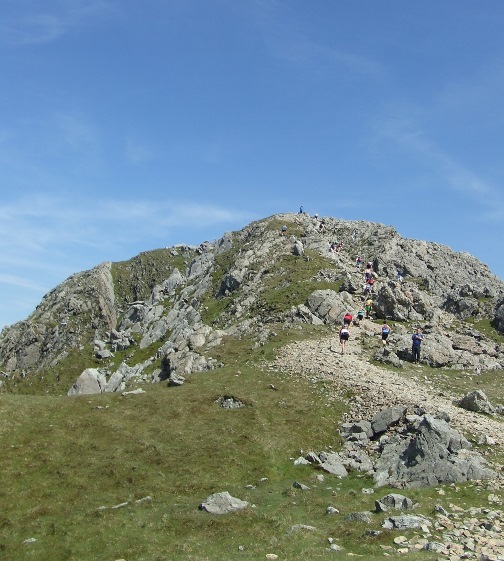 Back to car parks. Whilst chatting to the LBAC elite, I met a fellow fell runner who was not racing that day but who helpfully described some of the more difficult sections. To my surprise, he later appeared on the mountain and shouted "LBAC here", pointing to a steep descent down a bilberry-heath moor that was definitely off-piste. Thanks to him, I cut a few runners out and put them behind me. Now I was feeling it and the quads let me know that I should have finished about half an hour ago. On I trotted and through the dreaded woodland that now seemed harder, given the woody tentacles poking out onto the track. I kept pace with a few runners as we made it to the road, which was an unwelcome sight because I knew that I had to pick up the pace and put my quads in some additional pain. Down, down through the lanes we went and in the distance the occasional cheer could be heard as runners passed the finish line in the square below. The streets weren't empty, but instead the sun had made it a day out for many who were more than happy to clap anyone descending the mountain. Little did I know that unless I engineered some clever mathematics , I was not going to get a Buff spot prize (every fifth runner got one) and nor would I get a spot beer prize either (no idea how this one worked). I did however get free sandwiches and I got to experience the race of the year – what a birthday present.
So to you, reader, why not take up fell running? Head to north Wales where LBAC is welcome and its purple and yellow are recognised, thanks to the Marhams and Mike Kelly. But perhaps we ought to communicate to the elite that LBAC has a number of fell runners who perhaps wouldn't think of them as such. I'd start the list with Glen Turner, Pete Mackrell, Stuart Blofeld, Ben Corfield, Elliot Hind, Jon Hull, and Simon Coombes, all of whom have done some kind of fell race. I'd add a great many more who would do well on the hills. Truly, this requires an extraordinary outing! Committee, I'd like to schedule a motion…