What a season finale!
The Glowing Bit i.e. Leaving out most of the plethora of stats
The final league fixture, more than ever before showed what an exceptional club LBAC is. We have less than 50 senior members and a similar number of juniors but have just hosted the biggest and best fixture of the season while still giving everyone the opportunity to run and coming up with probably our best set of results ever.
On a day when it would be easy to get carried away with the fantastic running there are some very important things that should be remembered. Firstly the league itself is only the size and quality it is due the hard work put in by Dennis Orme who sadly lost his life to cancer a few weeks ago but would have been delighted to see the recognition given today by hosting the UK cross challenge.
Secondly, every year LBAC takes on the hosting of a fixture but the reality is that 95% of us only get involved on the day because Richard does all the work in the months beforehand. Now don't get me wrong he loves it really, but you wouldn't have thought that at 10:30 this morning! We've tried to get involved with helping him, and at some point (he's 70 next year) there will be a change of guard but as it stands we (and the rest of the league) should just be grateful that he continues to plan and deliver excellent events.
Thirdly, the reason we can deliver excellent events is because every year we have a fantastic response to our appeal for volunteers to come and stand in the cold/rain/snow all day for nothing more than a few words of thanks. For these people it isn't a short day with some being there at 8am and even the late arrivals turning up at 10:30 to put in a six hour shift on their weekend. Without these volunteers giving up their day it would make life much more complicated for all concerned. I therefore think that I speak for all of us that ran when I say we owe a huge thank you to Dennis, Richard and the thirty or so people who did that today.
We come on to the running. There is a huge amount of detail that can be gone into in terms of how people have performed today and across the season, and believe me I can't resist entirely but will cover it later so those not interested can stop reading at the appropriate moment, so in more general terms these are the facts of the season.
We have now been in division one for five consecutive years. Two was our previous record!
The U11 girls achieved their highest ever team position
The senior women achieved their highest ever team position
The U20 men took a bronze medal in achieving their highest ever team position
The senior men took a bronze medal in achieving their highest ever team position
And more cakes have been baked this season than the infamous 1983 season when we recruited Mary Berry as ladies captain!
For those that want to stop now there is just one more thing. We didn't make a big deal out of our overall club position as the men were focused on the team competition and we looked pretty set in 8th place but the amazing running by the whole club meant on the day we overhauled a 300 point deficit on Luton and took 7th place out of 14 overall in the division, our best ever and the first time we've ever beaten our two near rivals of Luton and Aylesbury.
The detail bit – with a fair few stats!
If we go through the age groups the U11 girls are first on the list. The U11 results are only produced in terms of the mob match and so aren't split into two divisions, consequently it is generally out of 20 or so clubs. In the last five years (which is when we last got promoted) the girls' best result has been 11th, but this year they have come 5th. This, more than any other age group has been achieved by the team. There is no star runner, but they have had five girls who have done at least four fixtures and four more who have chipped in across the season. Nicquole Carter was first home in each race, but with Zara Brooks, Julia Bell and Millie and Sophie Hawes all getting in the season results the future looks very bright indeed. This is particularly the case when you add in Isobel Haynes and today's star turn, Hatty Grimshaw to the the mix.
It's been an up and down year for the U11 boys but Dominic Grimshaw did produce the first club victory in a race for many years when he won back in October in Watford. We do also now have a small squad of boys who will hopefully encourage each other to progress through the age groups together. Yesterday's result though was their best of the season as they took 6th place with a Thomas Hirst-Mitchell's best run in his three races after a battle with Daniel May to support Dominic. With Olly Inchley just "dipping his toe" in the cross-country water we should be wel set for next year.
In addition to us all focusing on picking up points to gain on Luton in the overall standings, there were a few other things going on yesterday. Emma Coombes with distributing selection letters for the Inter-counties and two of our U13 girls have been picked to represent Bedfordshire in Birmingham in March. Both Ellie Rabbitts and Sadie Towell should be very proud of themselves and most the most of the experience alongside some of the country's top runners.
In terms of the U13 girls race, they all ran pretty consistently as they have all season with McKenna Keefe taking this to extremes by finishing in exactly the same position for the third race in a row. She also completed a qualifying set of four races alongside Evie Gilmour and Chloe May, who is also on Emma's reserve list for Birmingham. It was Ellie who once again led the team home to complete a full season in the CCCL and finish in 31st place overall.
The U13 boys is all about teamwork. Four of them were out running round Teardrop Lakes and they all finished within forty seconds of each other, spread across just 11 places. Scott Towell led home Max Rose, Harry Bell and Dylan Besson to complete a team for the third time this year with both Scott and Max being ever-present. Most of the lads are a year young so will be sticking with the U13's next year and will no date take the league by storm.
We have some highly dedicated girls in the U15's. There are just three of them but Megan Westrope has done all five races this season and Sarah Plummer has now started doing the Monday sessions with the seniors. Add in to that Caitlin Bell who managed to split the other two at Teardrops and there is great little squad there. All three of them achieved their highest positions of the season, with Sarah's 21st place showing that the intervals are starting to pay off. Their efforts yesterday also meant that they finished 7th on the day which is the best result in the last five years for this age category.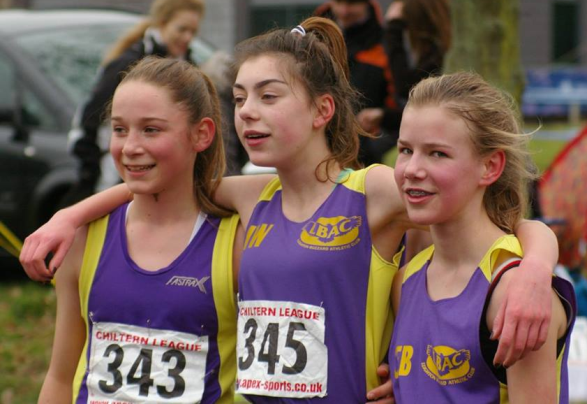 Our only other "junior" (although she may not thank me for the categorisation!) running was Izzi Bidlake-Hull. As with the boys, the standard in this age category is extremely high and we have all been hugely impressed by Izzi's efforts this year as we simply haven't had any U17 female representation for over five years and she has done it with a big friendly smile. If she can translate her parkrun improvements onto the cross-country course her smile will be even bigger next year.
Since 1999 our ladies teams have finished in 8th place in division one of the CCCL on no less than four occasions but have never broken into the top half……….until now! Suddenly we have a group of women who are all running to a good standard and pushing themselves to improve all the time. They are enjoying each other's company and add a huge amount to the club across the board and the results are showing. There were no exceptional performances at Teardrops, but there didn't need to be as strong runs by all eight of them as a second consecutive 7th place finish, also put them 7th overall for the year out of 14 teams.
Something that had also slipped my attention before today is the veteran ladies category. They were lying in 5th going into the final fixture, but an outstanding result on the day put them ahead of Luton overall and they just missed getting a bronze medal from Milton Keynes by three points overall! If only…….
The core of this team all season has been Gail, Amy, Lynn & Katie who all qualified for the end of season individual results. When I say qualified, Gail was once again the F55 champion and adds another credit to our wall of fame on the website for which she should be rightly lauded. The other three have put in a huge amount of effort this season to bring about the results they have by managing young families and training to perform superbly. Amy has again been rewarded with a place on the county team in Birmingham and Gail is delighted to now have someone to battle with over the country.
On the day these four were once again joined by Fiona, who seems to force 27 hours into every day as her life appears to revolve around the club, but still does so much more. Kate Johnson, who is improving rapidly and probably had her best cross-country so far, despite a parkrun in the morning and an evening baking amazing cakes for the club! Nikki Elvin, who won the award for chivalry as she lay down her entire body for Kate to run over, just five yards from the line. And Liz Peters whose second race of the year saw he get a huge improvement in position.
This report is already way too long so I don't really know what to do about the senior men as I could warble on for ages (If anyone has got this far?) about the final day and the overall results. So maybe on this occasion it's best just to let a few facts do the talking;
We were the second team to close our ten, with our 10th scorer coming in just under 46% of the way down the field. The only time we've done better was at Watford in October.
We had three in the top thirty and four in the top forty. This has never been done before.
Every single one of our runners took points off at least two other clubs.
15 senior men ran at least four fixtures (inc. 9 that did all five). This number has increased year on year for the last five years.
Last year we were delighted to finish our best ever position of 6th place!
We had our hearts set on a bronze medal as the gap to St Albans was just 9 points. An extraordinary effort by the team meant we overhauled them……….. just. 7323 vs 7297 is absolutely nothing.
It is no coincidence that our improvement has come along at the same time as we received some new blood in the U20's and massive congratulations should go to Jordan and Charlie with a bit of help from Billy in securing a bronze medal in the U20's team competition. Both Jordan and Charlie were ever-present with Jordan leading us home and Charlie scoring in every fixture. Billy's decision to come back from Uni to run almost certainly got us over the line in terms of pipping St Albans overall.
Special mention should go to Jordan whose presence at Chiltern League is now set in stone after nearly 40 consecutive races but for his efforts he finished 4th in the U20 competition for the season and missed 3rd by just two points.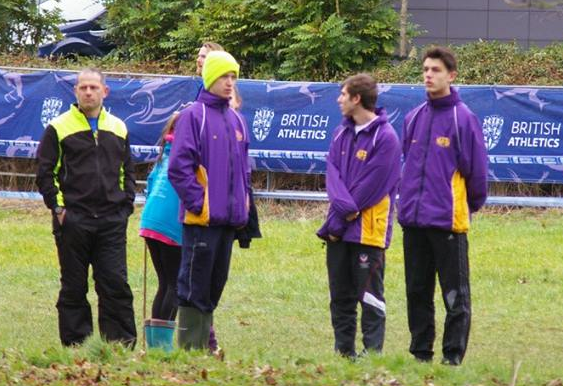 Apart from the aforementioned Jordan there were two people who finished in their highest ever positions in the league. Firstly, Ian Grimshaw quite simply ran a blinder and was even chasing down Pete near the end. The other was David Killick who highlights what the club is all about in my book. He is new to the club and is enjoying competing, socialising, improving and being a crucial part of a team that is having success with a smile on it's face.
Awesome season everyone. See you in October.