Marathon Majors
'twas a night before Christmas 2014 when a small group of Leighton Buzzard and Milton Keynes runners were out celebrating the end of a fine year of running. Young Pete Mackrell had run a new marathon PB of 2:40:29 in Cologne in September and followed that up with a fine 2:42:04 in a bitterly cold and windy New York two months later….New York marathon…..one of the six marathon majors….one beer led to another, and another beer (or three) led Pete to an idea….a wild idea….'what if I could run all six marathon majors in a two year period he questioned?' 'Don't be silly,' said Gary, 'you'll never do that!'
….a short time passed….
….some more beers were drunk….
….with drunken bravado, and probably some slurring, egged on by Gary's derision and disbelief, Pete declared his intention to run all six majors…..and his borderline alcoholic sidekick, Chris, thought I've not drunk beer in some of those places, why not go along for the ride…..?
….this is probably a good example of why beer induced bravado is to be avoided…..
So, next stop London 2015. Arriving on the start line in good form after a solid cross country season, Pete set out with a vengeance aiming to break the magic 2:40 mark. Along the way, he was spotted running with and then overtaking Paula Radcliffe, and later stalking his running idol, Steve Way. A bit of over-exuberance led to Pete suffering in the closing stages, but still achieving his goal and setting a new PB of 2:38:06.
Determined not to turn into a wibbly wobbly pile of human jelly at the finish line, as had happened in London, Pete set about training for his next marathon, Berlin, with an almost psychotic focus. Having watched London and seen the yoofs (sort of) of LBAC regularly heading to continental Europe for marathons and beers, a rather grumpy old track runner decided he'd had enough of 'those darn kids going on running holidays and having all the fun', so Simon Coombes decided to enter the Berlin ballot, along with Chris and few friends from Milton Keynes.
Much to Chris' annoyance, he failed to secure a place through the ballot, muttering and cursing about 'bloody joggers and charity runners nicking all the places….' like that Simon bloke! Anyway, a superb performance saw Pete smash his PB and set a new club record in the process, clocking a time of 2:33:35, breaking the record set by Pete Watkins that had stood for the best part of two decades. Oh, and that old track/jogger fella did alright as well knocking out 2:39:07 in only his second and final marathon. While Chris grumped off and drank lots of gallons of German beer in protest at missing out. They even did some cultural stuff too….
Three majors down, halfway. Now things would get interesting, it was time to head to Japan!
After his great Berlin run Pete wanted to make sure it wasn't a fluke and went off at the same sort of pace for Tokyo marathon, the most recent marathon to be named a major. Sure enough, Pete put in another good performance of 2:35:58. Meanwhile Chris had approached Tokyo with his usual training plan – run too much, run too hard, get injured, fall apart, run marathon anyway, managing to get round in 2:57:56.
After the marathon, there was a bit of touristy stuff as they found a tower to go up, rode a bullet train, saw a shiny temple and bloody big castle – the cultured devils!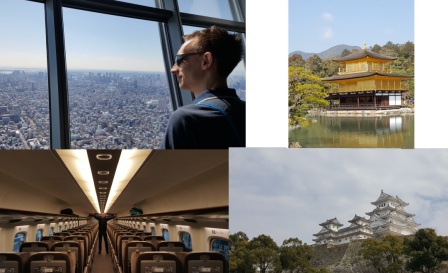 Then they climbed a mountain….in the snow….to get to an observation tower…..that was surrounded by clouds….they couldn't see anything….and there was no bar at the top….they were grumpy.
Marathon number five – Boston. The oldest marathon in world, and very challenging entry criteria – you need to be quick to get into this one with entrants in the senior men's category often needing to have achieved a sub-3 hour time in a recent marathon, but sometime needing even faster qualifying times! Still recovering from a tough run in Tokyo barely 6 weeks earlier, and feeling the fatigue of a gruelling schedule and hot, hilly, windy conditions, Pete struggled round but still achieved a very impressive 2:46:01. All this despite cocking up his baggage drop, nearly losing his kit, getting mistaken for one of the elite, and eventually infiltrating an American running club team bus!
Though only a short trip the boys did managed to play tourist for a day or two after the marathon, and found a statue of a guy called Paul, who rode a horse, and had tea parties….or something like that….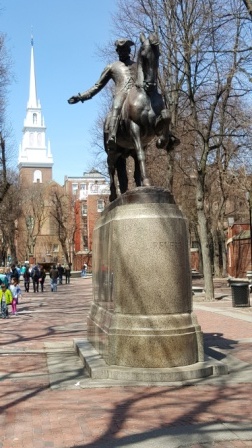 With five down and only one left to go, the team went to Chicago where Pete could complete his tour of the majors.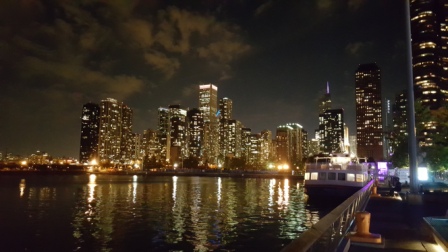 The preceding 23 months leading to the Chicago marathon had been a gruelling affair full of 70 mile weeks, intervals, hill sessions, long runs in the freezing cold and blazing sun, five tough marathons and numerous other races. So perhaps it was no surprise that Pete's build up to Chicago was hampered by numerous injuries and niggles, a rotten hayfever season and a diagnosis of asthma. But despite this, there was no way Pete wasn't going to complete this one – he still had to prove Gary wrong! Chris' build up to Chicago was a bit better than Pete's, managing to avoid any debilitating injuries and getting some decent miles under his belt in a slightly abbreviated training schedule. On the day, the guys arrived for the 7.30am start (how bloody early?!?!?) and made their way through the crowds to the start pen just behind the elites and American development field. There had been lots of talk around target times, pacing and strategy…..all very sensible, taking into account injuries and niggles…..which promptly went straight out of the window as the gun sounded. Pete switched into marathon monster mode and decided to take on his PB, haring off at 2:32 pace! Chris, thinking that Pete was aiming for 2:40, went belting out after him, hiding in Pete's shadow and hoping to be dragged round to somewhere around the 2:40 mark….this would turn out to be something of a strategic error on Chris' part.
Blasting through 5k in about 18:19 and through 10k in around 36:45, and still on Pete's heels, it was probably apparent to just about everyone that Chris was shortly going to be having a very bad day in the office! But by this stage the idiot didn't care as he felt great, and had basically chucked out the 5k splits he had planned for, so just kept trying to hammer out the miles as Pete steadily pulled away.
The course at Chicago is known as a fast course, with some great times achieved by the winners over the years. It's pretty flat, with the bridges over the river as the only noticeable elevation on the course. The real killer though is the wind – they don't call it the windy city for nothing! But even with some blustery conditions, the flat, long straights make you want to push on.
Pete smashed through halfway in 1:16:23 right on PB pace, with Chris a couple of minutes behind in 1:18:54. It was around this point that the wheels started to come off for Chris as he started to flag from the 25km mark. Pete held his pace for a while longer before starting to tire around 30km, but still looked on for a good time. Paying the price for their rather over excited starting pace, Chris especially so as his legs had appeared to turn into sacks of jelly, the chaps slogged through the closing miles with the sole driving motivator that there was apparently beer at the finish line!
Pete finally closed in on the finish line, clocking a great 2:39:27, and after what must have been the longest 6 miles in the history of marathon running, Chris staggered over the line (and straight to the beer stand, completely ignoring medals, goody bags, photographers, thermal blankets – there's single minded determination for you!) achieving a time of 2:51:27. The chaps rounded off the day with a visit to the Timothy O'Toole Irish bar where they proceeded to drink the place dry of Smithwicks!
So 23 months after New York marathon, through London, Berlin, Tokyo, Boston and finally Chicago, Pete has achieved the notable feet of running all six marathon majors, setting a club record, and averaging a staggering 2:39:12!